In this post, you will get to know How to Install macOS Monterey on PC- Hackintosh. In order to perform a clean installation of a Hackintosh, patience is required. so, wait for it. A Hackintosh is a non-mac computer that is built using PC parts, if you are wondering it is illegal, you are wrong. But it is against apple's end user license agreement, so, if it is broken you can't take it for repair in the Apple store.
Every computer will not work with the Hackintosh, this is because does not support the Hardware parts. There is also the matter of community which they have offered this much for people. So, if you don't have patience, do not start installing macOS Monterey on PC- Hackintosh. If you don't know your hardware part, do start installing macOS 12. You must know your hardware details like CPU, GPU, Motherboard, Wireless Network, and more. You may the dortania.github.io for hardware limitations and which part choose to build a Hackintosh computer.
Steps to Install macOS Monterey on PC- Hackintosh
1. Requirements:
Download macOS Monterey Installer: a macOS Monterey (macOS 12) installer is required, you may use the Assistant package to get it. You can get macOS using GibmacOS, you can download the macOS Monterey DMG file. Or you may have to use macOSDeveloperBetaAccessUtility.dmg to get the macOS. As long as you have any of these at your disposal, you have a macOS Monterey Installer.
16 GB USB Flash drive: Go to a store or buy online a USB 3.1 Flash drive to create a bootable USB flash drive. The USB flash drive will be formatted, then we will copy the macOS Monterey Installer. Once the USB flash is ready, we may begin the installation process.
Download Hackintosh macOS Monterey Bootloaders: In order to boot the macOS, a bootloader is required, You can use the Clover, open configurator, and UEFI bootloader.
Hardware Requirements:
60 GB Free SSD Storage: It is recommended to use SSD as your main drive for installing macOS Monterey on a PC. Why, it is fast, saves a lot of time compared to the old buddy HDD. Since macOS Monterey requires its own drive, you have to buy a separate SSD for it. If your Hackintosh is running macOS Big sur, it is not preferred to perform a clean Installation, just update it. This way, your apps, files, and data nothing will be erased.
Graphics Card: Performance is everything, if you want to have a smooth, dazzling performance from your computer, make sure to attach a graphic card. You may use the AMD Radeon RX 6900 and RX 6800 GPUs, or the Nvidia Graphics card.
16 GB of RAM Recommended: As far as my experience says, 4 GB of RAM is enough to run macOS Monterey. Also, my experience says, the more RAM you have on your PC- Hackintosh, the better it performs.
2. Make macOS Monterey Bootable Installer
If you are on a Windows operating system, you can use the TransMac, to create a bootable Installer. You may also use a Virtual machine (VirtualBox & VMware) on Windows to create a bootable on Windows. I have used macOS Big sur VMware to create a bootable USB.
I am assuming you have macOS Monterey Installer on the Application directory and attach the USB Flash drive to the computer. Open Disk Utility and format the USB flash drive a mac OS Extended (Journaled) with GUID Partition map.
Now open Terminal and paste the below command their.
sudo /Applications/Install\ macOS\ 12\ Beta.app/Contents/Resources/createinstallmedia --volume /Volumes/Untitled\ 2

Here is a complete step by guide to create bootable Installer for macOS using Terminal.
Find the right EFI Partition for Your PC- Hackintosh
macOS Monterey Installer has a editable EFI Partition where you get the EFI Partition using the Open-Core configurator, Clover or may a UEFI Bootloader which can boot the Mac.
We have provided you the pre-built EFI directories back to the required section. However, if you think that the SSDTs or the EFI partition files are not available with them. You can use the OC_GenX to create them based on your hardware. But remember if you are using OC_GenX, a macOS is required.
The only thing remaining is for you to figure out which one of them is suitable for your system. The copy the EFI Partition directory on the USB Flash drive.
Here are some common EFI Bootloaders that you may use.
Set up BIOS Settings
Motherboard settings are called Basic Input output system (BIOS), these settings need to be configured. Or else you are not able to boot your computer to the macOS.
Each motherboard has its own BIOS settings, some of the settings, you have to figure out yourself. But the below settings are most common among the BIOS Settings, you will need to configure them. The first thing is to load the default BIOS Settings, then your PC will restart, press your BIOS key and apply the following changings.
Disable the secure boot because we are installing a custom operating system.
Boot Mode have to be UEFI.
Disable the VT-d, if your system supports it.
XCHI Handoff Disable
Here is a post with screenshots of How to configure BIOS Settings for macOS Monterey.
Perform clean Installation of macOS Monterey on PC- Hackintosh
If you are performing first time a clean installation of macOS Monterey on Your PC- Hackintosh, you will have to create a partition as Apple requires. On the recovery window, choose disk utility.
View all the hard disk on the computer by choosing View All devices from the view button.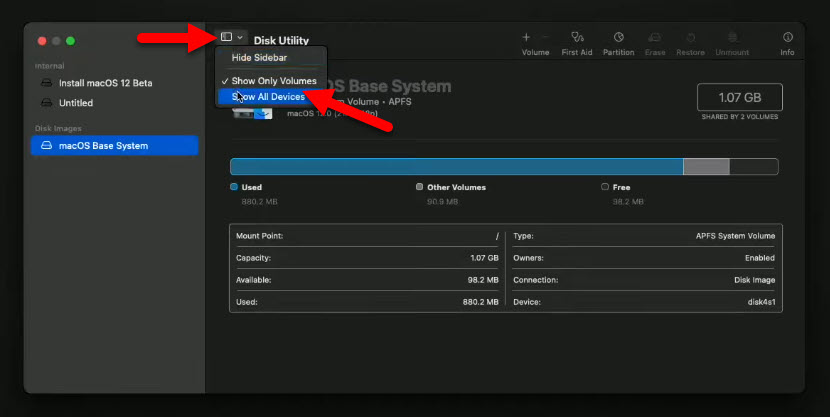 Choose the hard drive in the sidebar of Disk Utility where the macOS Monterey should be installed. Then erase the Disk using the erase tab. When erasing the disk you can have to APFS as its file system and GUID partition map for the scheme.
The moment the disk is erased, quit the disk utility, choose Install macOS 12 on the main menu and click continue.
After that the installer will be loaded where you have to agree with terms and conditions until you reach the area with the HDD. Choose the drive you just erased and click Install.
Once the Installer is started, it will take several minutes to copy the files. It will also restart several times, once they are done, you have to choose a country, migration settings, create an account and more.
Post Installation
At the moment you are happy that the macOS Monterey is installed on your computer. You should be but there is a problem that may haunt you forever if you do not fix that. That is the bootloader, remember the EFI Partition directory, you need to replace it with the EFI Partition from earlier which is now resting in the USB.
You have to copy and Paste that inside the EFI Partition of the macOS Monterey.
In any case, it didn't get all these steps or EFI steps, you can visit this video (It is not lengthy, hopefully, it should the job). However that video was not helpful, I would recommend you to watch the below video freecodecamp.org from (43:36),
Summary:
I sure hope this article was helpful to Install macOS Monterey on PC- Hackintosh. Well, I did my best to make it simple for users who wants to install macOS Monterey on their PC- Hackintosh.
Also Read: