In this you get will get to Download macOS Monterey ISO DMG VMDK and InstallAssistant.pkg. Let me know your thoughts and ideas in the comments section.
macOS Monterey (macOS 12) is destined to be released in the fall, but at the moment not even the public beta has been released. Although currently after testing the beta version we have some interesting new features. Universal Control, AirPlay for Mac, Safari tab groups, and many more features are waiting to be tested, so get your hopes up and make preparations.
Apple has named The next version of the Mac OS is Monterey which is a city in California, USA. macOS 12 (macOS Monterey) is the first update for macOS since the release of macOS 11 Big Sur, which was introduced at WWDC 2021. In this post, we will introduce the features of macOS Monterey, which will be released this fall but the public beta will start rolling out in July.
macOS Monterey New Features
1- Universal Control
It is common that users usually switch between different devices to perform different tasks. But with the universal control, there is no need to switch between your devices anymore. Because you can use a mouse, keyboard, or other devices between your Mac, iMac, or iPad. The keyboard, mouse, and trackpad can be used for the iPad. Simply drag and drop files between devices and execute gestures on the MacBook, iPad, iMac Just like drag and drop between a host and a Virtual machine.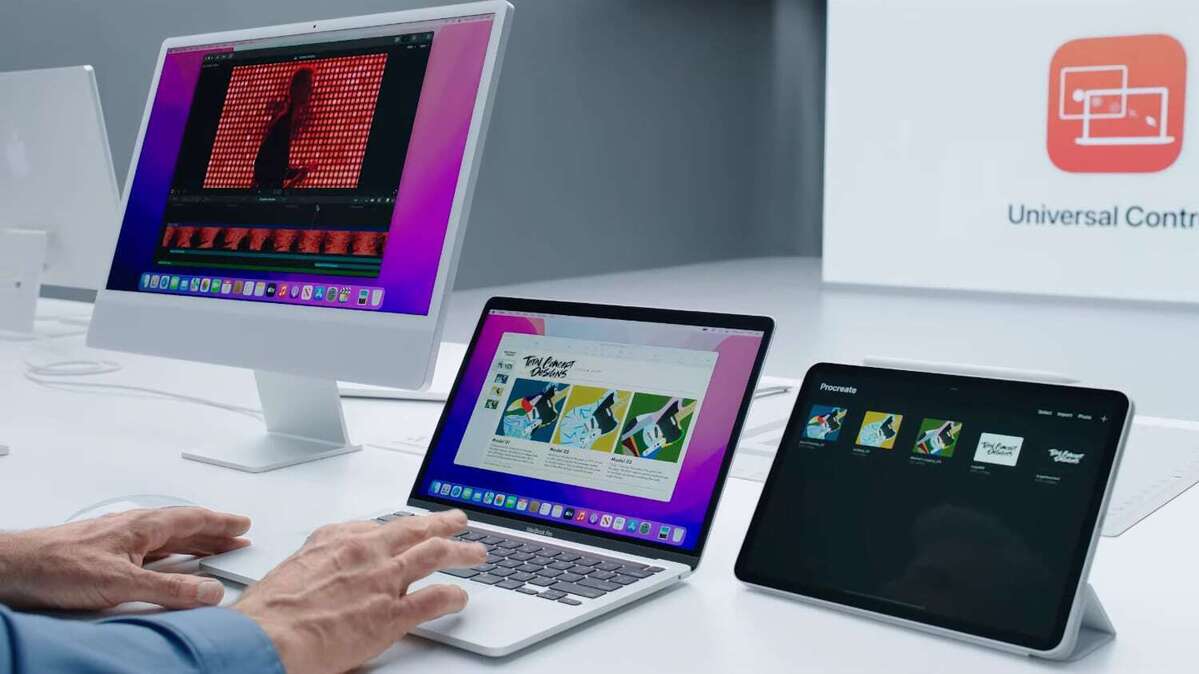 According to Craig Federighi, Universal Control is a feature which professional needs more than anybody else. He continues by saying that three devices can be connected to each other. During the WWDC 21, Frederick used a 24-inch iMac, a 13-inch MacBook Pro M1, and an iPad. We clearly saw that the MacBook cursor moved to the left inside the iMac and to the right inside the iPad. He performed how to remove a file from the iPad, skip in from Macbook Pro and Paste it into the iMac.
macs which are compatible with universal control
MacBook (2016 and later)
MacBook Pro (2016 or newer)
MacBook Air (2018 or newer)
iMac 2017 or newer
iMac (27-inch late 2015 or later)
iMac Pro
Mac Mini (2018 or newer)
Mac Pro (2019 or newer)
iPads compatible with this feature:
iPad Pro
iPad Air (third-generation or newer)
iPad (6th generation or newer)
iPad mini (fifth generation or newer)
Requirements to use the Universal Control Among devices
All the devices must be logged with the same Apple ID account to the iCloud.
Two-Factor authentication must be enabled on the account.
In order to connect devices wirelessly, enable the Bluetooth, Wifi, and Handoff within a distance of 10 meter range on all devices.
Do not share SIM card's internet connection among the mac and iPad.
If you want to connect them with wire and USB, connect the Mac to iPad.
2- Shortcut for mac
In iOS and iPadOS, you can't comprehend how shortcuts are helpful to fulfill a task, and now Shortcut is part of the macOS Monterey. Shortcut for mac will bring the same powerful help and experience for users. Inside the macOS Monterey shortcuts are available everywhere, all that is left is to run it for your use. You can share the shortcuts you created, also every shortcut is synced across all the devices. If it is compatible, you can run the iPad and iPhone shortcuts on Your M1 processor and Intel processor using Rosetta 2. During the conference, they said that the Automator app is still supported.
3- Safari
Among the other changes there comes safari, it has a crazy feature. When you browse the web using safari, it will look for user interface changes to support tab-focused features. In other words, safari will change its tab color based on the site you are visiting, the toolbar becomes more compact with buttons around it. They have created a new panel for the Home, subscription, security report, downloads on the left sidebar.
Safari tab groups have also undergone user interface changes in macOS Monterey. The New tab groups allow you to save multiple tabs for later access. Suppose you are searching for a hotel resort in California and something important may come up, you can save the tabs and later visit them. The tab groups you just saved will also be accessed across other Apple devices. There is also the matter of safari monitoring all the tabs but based on Apple's saying it won't use any resources of the device.
4- Airplay on Mac
Airplay on Mac can share and play media from your iPhone or iPad to your Mac, You may stream media from the same app. For instance, play the media on your Mac with Airplay then let others watch it on the iPad or iPhone. At the moment Airplay is available on both the Mac and the USB connection.
Devices compatible with Airplay on Mac:
MacBook Pro 2018 and newer
MacBook Air 2018 and newer
iMac 2019 and newer
iMac Pro
Mac Mini 2020 or newer
Mac Pro 2019 or newer
iPhone 7 or newer
iPad Pro (2nd generation or newer)
iPad Air (3rd generation or newer)
iPad (6th generation iPad or newer)
iPad Mini (5th generation or newer)
If you have an iPhone or iPad, you may be able to share content in lower resolution with a supported Mac. This is possible if the allow Airplay setting is set to "Everyone" or "Anyone on the same network".
5- Facetime and Messages
New features for Facetime and Messages are added for them in the macOS Monterey which will be also in iOS 15. The new features will make it much easier to use media in conversations with your friends or clients.
SharePlay will allow users to share their experience while watching a video, listening to music, or making a Facebook call. People available on the call can control the media being played and the caller can even create a playlist. You have to know that SharePlay works with Apple TV and Apple Music as for the other devices, it depends on their compatibility of those services with the SharePlay feature API or whether they update their service based on this feature.
With Share with You, you can now have more ways to access and work with items that people send you as messages. Apps like Photos, Podcast, News, Safari, and TV will all have sections for items that people have shared with you.
People who use Windows or FaceTime can join you when you use Facetime on a Mac in other words windows users can use Facetime. They have not developed the app for Windows users, they simply allow you to use it using a browser. To participate in the facetime using the link you must have the latest version of Google Chrome or Microsoft Edge. The H.264 video encoding support is also required to send video from their devices.
6- Focus
Another feature of macOS Monterey is the Focus feature, with which you can set times so that your notifications are blocked at important moments. For instance, you can set a task focus that filters your notifications and only displays your job notifications. Apple also offers a variety of focus modes, and you can create your own templates.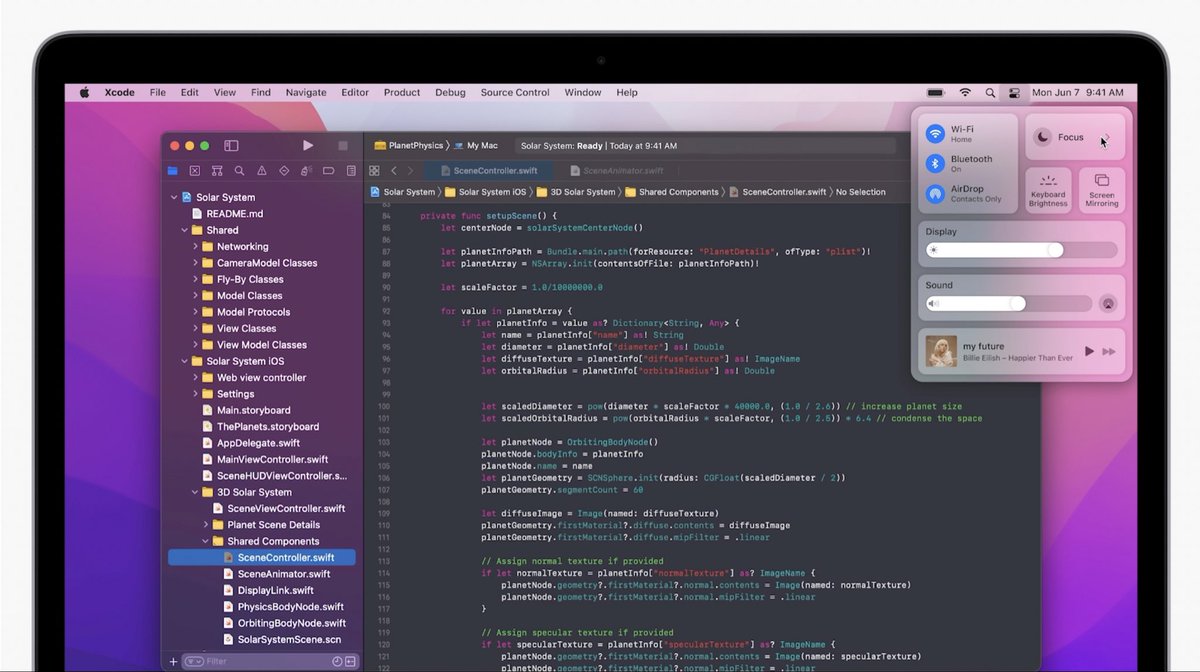 7- Quick Note Features
Just like iPadOS 15, you will be able to create notes on the screen without having to run the Note app. You can also add images to Quick Note, and the links in the note will open on their own page in the browser. All your Quick Notes are stored in the Notes app which will be available across all the other devices. Note also has a new Activity display mode where you can see different people reviewing shared notes.
Download macOS Monterey ISO DMG VMDK and InstallAssiatnt.pkg
Download macOS Monterey ISO File For VirtualBox and Vmware
macOS Monterey ISO file is used to Install macOS 12 on a Virtual machine on Windows operating system. Alongside the macOS Monterey ISO image, virtual machine software like VirtualBox or VMware is required. Virtual Machine is within a Virtualization software which can work just like a physical computer. It has a hard drive, RAM, chipset, Removeable drive, everything that the PC needs it has. But it is only virtual, it is not real. You can use it to test another operating system, experiment with something inside them.
As I said before, with the help of macOS Monterey ISO, you can install an OS on a Virtual machine on Windows operating system. By the way, macOS 12, alongside the Virtual machine, requires a line of code for VMware and a bunch of codes for VirtualBox. I have written every step of How to Install macOS Monterey on Windows 10. Just follow the below instruction.
Download Link to macOS Monterey ISO Image:
Download macOS Monterey ISO file Latest version
DISCLAIMER: The macOS Monterey ISO Image is created for Educational and Testing Purposes. Please note, we are not responsible if anyone is miss using the ISO file.
Download macOS Monterey DMG File
DMG is the image extension for macOS, as for windows, the image extension is iSO. So, if you are looking to create a bootable USB on macOS or Windows you need to download the DMG file. Then if you are downloading the macOS from the app store, it is called the macOS installer. In simple words, the dmg file contains the macOS Installer in itself.
Download Links to macOS Monterey DMG File
The macOS Monterey DMG file's download is divided into three parts, you have to download all three of them. After, put them together inside a folder, right-click on it and choose extract. Install WinRAR if you don't see an extract option because it is compressed with WinRAR.
Download Part 1 (5 GB)
Download Part 2 (5 GB)
Download Part 3 (1.7 GB)
Download macOS Monterey VMDK File
macOS Monterey ISO Image is used to perform a clean installation on a Virtual machine. But When it comes to Virtual machine disk Image (VMDK), the OS is already installed. All you have to do in VMware is configure the VMX file but on VirtualBox, you have to edit and apply the codes.
At the moment I have not created the macOS Monterey VMDK file, or better I don't want to. Because the beta version of macOS Monterey is not stable, it will be a waste of time because we will face many errors. But you don't have to worry, I will provide the VMDK download link as soon as possible.
Download Links to macOS Monterey VMDK file.
Download macOS Monterey VMDK File (Uploading as soon as possible)
Download macOS InstallAssistant.pkg
First thing's first, what is InstallAssistant.pkg?
It is a package which only the macOS Installer inside itself, when you installed, you will the macOS installer inside the Applications.
Why do I have to use InstallAssistant.pkg to get macOS Monterey or the older version?
For starters, InstallAssistant.pkg downloads macOS Monterey or older versions directly from Apple servers. Second, if you are a developer, you are using a beta version of macOS on your computer or Virtual machine, you get the final update from the software update at once. Not even the installinstallmacos.py won't work.
You may use the gibmacOS to get the update or the macOS installer from Apple servers. or Better yet I will provide the download links directly for you from apple servers.
Download macOS Monterey Install Assistant Final Version
macOS Monterey Beta Full Installer Download
sha256 InstallAssistant.pkg Verification
| | |
| --- | --- |
| sha256 | openssl dgst -sha256 |
| 12.2 | f6e92bb78add881260b82b095518c584e3ca9c5a2fe4a041a2ff527aabd0e9fa |
| 12.1 | 8a14293807d4868c5ce945291df8755e336bc411da28200b2e071ba95e203f0b |
| 12.0.1 | |
| 12.1 B1 | 14ca71bfca5e2ce6c51f1af11325c5c7c6660329f4a539fff6b9992adeed173a |
| 12.0.1 | 9630e14e5142937a08bc01dea96fead4477e5722fa8390d712ecae318acaf476 |
| Beta 10 | 89fb37082b77555889b2be2fef4ba6cf363e894ec097f415552ee2441a33a69b |
| Beta 9 | a84ccad55c9a0c574f2b4bdbc635b29643a9050cf903a13af21e97e4f4fcb9f5 |
| Beta 8 | f0b191b4e180a90815021531b7a76650e4d8f57db2f54129426b1ff9fd03883b |
| Beta 7 | 371f2afda435b03e945cc91fc0fb48a330a32045ed9bd267bf8d49660589705d |
| Beta 6 | 629b627829fb07f1e3f92225faf1fcfebd1b992c8788d6cd1fa9ef30ebede71d |
| Beta 5 | deda4d3b3612ce55af5274ade97764fc960eac7614be38262cc744ec99b67e29 |
| Beta 4 | d03d0073c37a276d5343364826a1d4b9c5a962dbcb27b8ea6207b7032e8762dd |
| Beta 3 | 033a584dd80fd5260edbe4c18fe023a47aa2296096024f3b3dae36215b4c363c |
| Beta 2 | 898c99207edf596577e79adc2a74f5d9f301a0fb6cdedd315da7e47ea27e839c |
| Beta 1 | 7b4d998a997c6fd33a8d03d16b77743d5496ab9aeca81bbe14e8aaebc4abcf3f |
Summary:
Hopefully, our team will update the links with each update, and if at some point came a notice to remove the links. We will remove them but we will be in touch with you on Telegram and provide the download links there.
Also, anyone who is using our links please give us credit, that's all.