Dark mode Removes less strain on the user's eyes and the device's battery life, making it particularly appealing to apps and websites. How to enable Dark Mode on all websites using browsers on PC, Android and iOS?
The Dark Mode is an interesting feature with a variety of advantages that has grown in popularity in the last few years and has now attracted many people's attention. Using dark mode puts less pressure on the user's eyes because it reduces the amount of blue light emitted into the user's eyes. This blue light can have a negative effect on sleep. Lack of sleep not only causes you to feel tired, but also causes obesity, high blood pressure, diabetes and even heart disease.
There are a number of reasons for using dark mode, perhaps the most important being the lower battery consumption, especially on mobile devices. The smartphone display is the main source of battery power and activating the dark mode will undoubtedly reduce power consumption. Google has also officially confirmed this.
In addition, there is another issue: the dark mode is very attractive, and users enjoy viewing the content with a glossy black interface. Google's Material Design language and Facebook's new design language perfectly capture this. In both interfaces, we see a lot of bright colors, but activating the dark mode makes some major changes. Also, viewing different websites in the dark makes it easier to read their textual content. Websites also tend to look darker with a darker look.
If you are convinced by studying these reasons to switch to Dark Mood, follow the procedure if not close it right now.
Enable Dark Mode on All websites
Google Chrome is the google's official browser, basically it is an open source. Microsoft Edge and opera are created using the same codes, so, the steps are the same.
Enable Dark mode on Google Chrome, Microsoft New Edge and Opera
Google Chrome is the most popular browser these days and it is used by many people around the globe. The browser did not previously use internal settings to darken the website environment; however, it could do so through releases for Chrome. One of the extensions known simply as Dark Mode, and developed by a miscellaneous developer, darkens the backdrop of websites. However, our reviews show that this plugin sometimes does not show satisfactory performance.
Google Chrome does not have the Dark Mode option by default in its user interface, but in new browser updates it can be darkened in a specific way. Since the official release of Google Chrome 73 and 74 for MacOS and Windows operating systems, respectively, we've seen a variety of features added to the browser. So, if you enable Dark Mode on both Windows 10 and macOS, Google Chrome will automatically turn on Dark Mode. The tutorial on how to enable Dark Mode in the operating systems mentioned at the end of the article.
If your device is not equipped with Windows 8 and macOS operating systems, you can switch to themes. Google Chrome fully supports user-generated themes and you can download and install them in the official store of this browser. At the official Google Chrome Store, even some of the darker themes that work best are distinguished from other themes. You can get these themes by visiting this page.
Unsurprisingly, Google has been putting official themes in store for some time now, including dark themes. Just Black is one of these themes; however, we recommend using the Morpheon Dark theme, the most popular dark theme these days in the Chrome Store. Unlike many other dark themes, this theme lends a very good contrast to the active and inactive tabs. In Chrome browser, inactive tabs are slightly darker to distinguish them from viewing tabs.
Keep in mind that themes often darken the browser's interior and, in many cases, cannot darken websites. Some websites by default allow their users to enable Dark Mode, but only one website is available at a time. You can use the Dark Reader plugin to apply the dark mode to the entire web environment. There are other add-ons with similar functionality, but the add-on works best.
Google Chrome has been hosting a new feature called "Mandatory Dark Mode" since version 78. Google's popular browser relies on this feature to make all websites dark, whether or not the websites themselves are dark. So, if you're using newer versions of Chrome, you can go to the Flags section instead of using extensions.
Follow the steps below to access the Flags section and enable dark mode:
Open a new tab and type chrome://flags, then hit enter.
If you are on windows, hold Ctrl + F together, it will open the search box. Paste their the "Force Dark Mode for Web Contents", when it appears, enable it.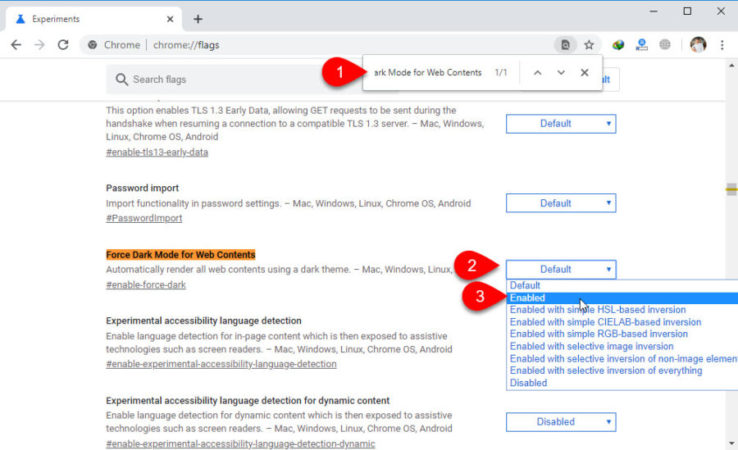 After your enabled the dark mode, google asks you to relaunch the browser.
Have a look at Intozoom.com in the Dark Mode.
In the Forced Dark Mode flag, there are several options that you can use to customize them. Chrome's compulsory Dark Mask feature has improved over time and is now more efficient than before.
The Opera and the new version of the Edge browser are built using the Chrome code, so this method will work on them too.
Not to mention, the Edge browser in the Settings has already a dark theme but it won't effect every website you visit. You can enable the Microsoft edge dark theme by visiting Settings> Appearances> theme.
Opera also provide their users a default dark mode in their settings, so it's up to you to enable it. As I said before it won't effect every website. To enable dark mode on Opera go to settings> in the basic section> choose enable dark mode.
How to Enable Dark Mode on Firefox Mozilla and Safari?
Firefox is another popular browser that has multiple users around the world. There are various options available to the user to enable dark mode in the browser interface. Follow the below steps to enable dark mode on Mozilla Firefox on Windows, Linux and macOS operating systems:
Go to menu and choose customize.
On the new page, the Themes drop-down menu opens where you should look for the Dark option. After finding this option, enable it.
It is also possible to darken the Firefox environment through different themes of the online store. Also, there are various extensions for this, one of which can be downloaded from this link. You can also use the Dark Reader plugin to darken websites.
Enable Dark Mode on Safari
Safari, as Apple's proprietary browser, is fully compatible with the macOS operating system. By activating dark mode on macOS, Safari also turns black. After activating Dark Mode on macOS, Safari also shows websites that are compatible with this feature in the dark. If a website does not support dark mode, you can install the Dark Reader plugin on Safari or use Safari Reader. In addition, Apple is offering Safari users a special add-on to achieve darkness.
How to enable Dark Mode on Mobile Devices?
Keep in mind if your andorid don't have the dark mode, still you can turn on the dark mode on your browsers. Opera, Google Chrome, Microsoft Edge dark mode can be enabled the same as you enabled on pc. There is an alternative methdo to Enable Dark Mode on All websites with alternative, which you will know in a bit.
iOS:-
Dark mode was one of the features iOS users had long wanted to add to the operating system. Apple finally decided to officially add Dark Mode in iOS 13. With Dark Mode enabled, almost all of the default iOS apps turn black to feel a certain integration across the operating system. This is true even for a number of different apps. In fact, with the activation of Dark Mode, the interior of apps like Instagram also gets dark.
Activating Dark Mode on iOS is easy, just follow the below steps:
Open Settings
Navigate to the Display & Brightness section and tap Dark mode.
Android:-
Google, after a long time, finally used Android in the dark mode. The company has called its operating system Dark Theme. There are several ways to enable Dark Theme on Android. Follow these steps to do this:
Tap on settings.
Tap on Display and enable Dark theme.
By activating the dark theme, the interior of the operating system will go dark with many of Google's own apps along with a number of miscellaneous apps.
If your smartphone has not received Android 5 yet, the dark mode activation depends on the type of phone you are using. You may see an option to enable the dark theme in the Display sub-menu of the Settings menu. However, even with phones that have a dark theme, there are some limitations.
If you are using Samsung phones running Android 9 (Pie) and the first version of the One UI interface, you can go to the Settings menu and enable Night Mode. After entering the Settings menu, enter the Display section and activate the Night Mode option. Samsung's user interface Knight Mode does a great job, but it's not quite perfect. If your phone is powered by Android 9, you can always make night mode active, but you need developer access.
To enable developer access, go to settings> about phone> scroll down to the end, 7 times tap back to back on build number.
If your android phone is having the android 10, you may install launcher. A good example is Nova Launcher, which provides dark mode alongside the other features.
How to enable Dark Mode on macOS Catalina?
If you use macOS Mojave or macOS Catalina on your computer, you can easily enable dark mode. Activating Dark Mode on macOS not only darkens the interior of the operating system, but also applications and even a variety of other applications such as Google Chrome and Mozilla Firefox. To enable dark mode on macOS Catalina, use the following method:
Open system preference and Go to General.
At the top of the popup menu, you can see the option to enable dark mode in the Appearance section.
In the Catalina version, there is also the Auto option, which activates the operating system environment depending on whether it is day or night.
Also Read:
How to Enable Dark Mode on Windows?
Activating dark mode in Windows 10 is a very easy task. It didn't get dark at startup, but it was added in later updates. Like many dark modes, Windows 10 dark mode does not apply to any single pop-up window, and still applications may not go dark. While darkening the interior of Windows 10, it also darkens the environment of many apps that are installed by default. However, apps like WordPad still do not support it.
Follow the steps to enable dark mode on windows 10.
Right click on the desktop and choose personalize.
Go to colors and choose the dark option.
How to Enable Dark Mode on Instagram?
Instagram is one of the most popular social networks especially among Photographers. This app does not use built-in settings to enable Dark Mode, but you can use Instagram Dark Mode to use certain methods. From iOS 13 and Android 10 onwards, Dark Mode has been added to these operating systems. If you enable Dark Mode on Android 10 and iOS 13 and later, the Instagram environment will automatically turn dark. Also, if you are using earlier versions of Android, we have a solution for you. Installing the Dark Mode app on your phone will also automatically darken your Instagram. Needless to say, this method has been tried on Android, Orio. To download the Dark Mode app go to this page on Google Play.
And that's all with How to Enable Dark Mode on All websites using Browsers on PC, Android and iOS.