Are you looking for a way to hide installed Android applications on your Samsung smartphone, then you are in the right place. Because in this article you are going to learn how to easily hide apps on Samsung Phone (One UI 4.0).
if you are one of those users, who want to keep some of the Android applications hidden from the eyes, exactly you can do that. It does not matter if they are the pre-installed Android applications, or it is downloaded from the play store, you can hide them easily by applying only simple few steps.
Without wasting a lot of time let's begin hiding apps on your Samsung Galaxy device.
1. Easily Hide Apps on Samsung Phone
Caution: the below instructions are specifically designed to hide Android applications on Samsung smartphones only. If you are using an Android phone from another company like Xiaomi, one plus, etc the process may be a little bit different, but still, try if it works. There is a good reason, because every company brings changes to the Android, in this case, Samsung calls it is smartphone's operating system One UI.
Turn on the screen of your phone, and pinch or hold your finger on an empty place in your home screen. After the second, you will be in the screen editing view, where you can also see a menu at the top of the page.
It is time for you to visit the settings of the home screen, so tap on home screen settings at the right corner bottom.
Once the settings of the home screen is opened, you have to Scroll down and look for hide apps, one once you find it tap on it.
It is time for you to choose all the applications that you want to hide, once you have selected those apps, simply tap on apply to save the changes. In some Samsung Galaxy phones, instead of apply done will be written.
The moment the settings are applied, those applications will not appear when you tap on the app drawer. Meanwhile, if you search for it, it will appear, at the same time, it is also available in the app settings of your Samsung Galaxy Phone.
Unhide Apps on Samsung Phone
After a while, if you change your mind, and you are looking to unhide the hidden applications, once again you have to open the home screen settings. Tap on "hide apps", after that you have unchecked the selected Apps that are checked to hide.
2. Easily Hide Apps on Samsung Phone using Secure Folder
There is also another method which is called secure folder, you can use it to hide Apps. People who have sensitive information, and want to save it into a secure location on their Samsung Galaxy phones are using the "Secure Folder".
If you're turning on the Secure Folder, it means you are moving applications from your Galaxy phone into the secure folder. Oh, and by the way secure folder is protected by Samsung Knox security. The first point that I want to mention is that by default secure folder is not available in the app drawer. So my first goal is to enable the secure folder from notifications.
To enable secure folder, you have to visit the notification center, simply swipe down the notification center from your home screen.
Look for Secure Folder and tap on it.
After tapping, Agree to terms and conditions on the welcome window. Than Samsung is going to ask you to enter your Samsung account password to verify.
Once this secure folder is opened, at the bottom you can see that there are two options of add files, and add apps. I am looking to hide applications not photos and videos, so tap on add apps.
you can now select the applications that you want to hide. You can also directly download those applications from the Google Play store or the Samsung Galaxy store.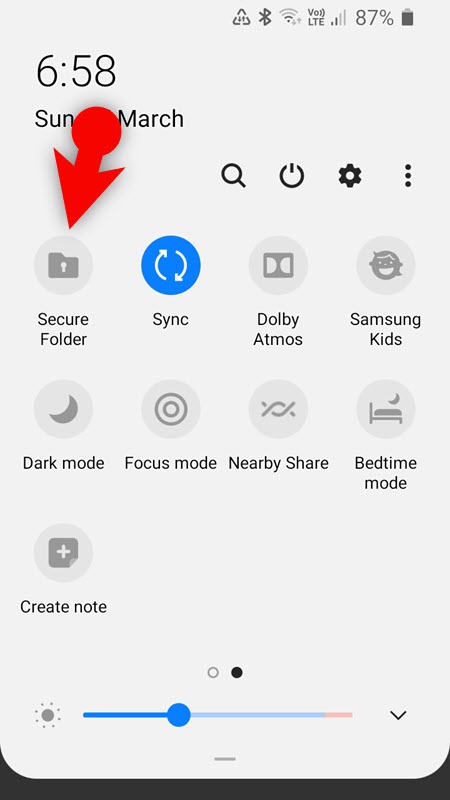 Once you enabled Secure Folder, you will see it has created a directory of its own on the app drawer area and on your home screen. If you open it you will see the applications that are Secured. However, if you are looking to unhide those applications, again open the secure folder and uncheck those apps.
I am hoping this step method was helpful to Easily Hide Apps on Samsung Phone.
3. Hide Apps on Samsung Using Third-Party Apps
If the earlier methods that I guided you are not good enough to Easily Hide Apps on Samsung Phone, then go ahead and look for the third-party applications. In this case, launchers can really do the job.
The best launcher app that I recommend to Android users is Nova launcher. There is a reason for it, it is a 4.5-star rating out of 5 in Google Play Store, the developers of the Nova App Launcher added a huge overhaul to it. This launcher can not only hide your applications, but you can also perform a crazy amount of tweaks.
Do you Truly think hiding Apps are Enough?
It sounds very cool and it is great that you can really easily hide Android applications on your Samsung Galaxy phone, but the question is, is it really enough for you. What about deleting pre-installed Android applications to free storage and more. So let me know your thoughts on these questions in the comment section. In the meantime, read the below-related articles and follow me on YouTube.