If you're looking for a way to hide Instagram likes on iPhone and Android, then you are in the right place. Because in this post you are going to learn the step by step guide of how to hide Instagram likes on iPhone and Android.
A thousand Thanks to the instagrams capabilities, where users can see each other's likes on their photos videos and reels. Again thanks to Instagram, right now you can conceal your posts likes, dislikes and hide simillar posts to yours. I am assuming up until now you didn't know about these features, that's why you are here. Apparently there is a good reason that Meta has taken this measure to create such option for the users. The reason is to release presure among the users about likes, and dislikes. Facebook took a long time almost three years to introduce this feature globally. Even though they started experimenting this feature in 2019 in some regions.
If you remember last year YouTube took a drastic measure to remove the dislike button on their platform. Now meta has introduced this feature globally (But users are in Control), to release anxiety, an increase the people's mental health. Meta is also claiming that eliminating the like button on their platform has minimal effect on the user's behavior and Wellness.
People in this century are definitely consumed by using the social media, And without using these applications they can't pass their day. So basically social media has deepened its roots to our culture. At the same time that it has a place in our culture, it has influenced a lot of peoples lives in its own way.
Since social media has that much influence in a person's life, some people are taking this to the next level and making them mad, envy, jealous and more. If you ask me likes, views, and dislikes does not impact the quality and success of a person on soical media (My Personal View). Without wasting a lot of time let's begin the process of how to hide Instagram likes on iPhone and Android.
Steps to Easily Hide Instagram Likes Before Posting
Here are the the steps of hiding Instagram likes on instagram.
Tap on the Instagram app ,then tap on the plus icon in the middle screen at the bottom of your phone.
This is a step where you have to select a photo, or video then tap next.
If you are interested to apply any filters, customizations to your photo or video go on and apply it, then move on.
Go to the advanced settings at the bottom of your screen.
Now you have the option to hide like and you count on your post.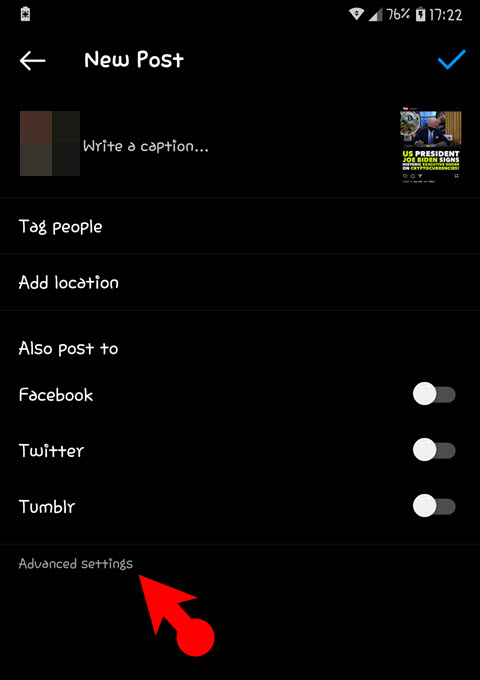 Easily Hide Likes on Posts after Posting
If you have posted a Photo, video or reel on your Instagram, after posting you realize that you want to hide their likes on that post. So, here you are going to learn how to hide like after posting the content.
Login insider Instagram account, then tap on any of the post that you published a while back.
After tapping on the content, at the top corner you will see three dots tap on it.
You will find their the option to hide like count.
Easily Hide Instagram Like Count By Deafault on Your Account
If you want to hide your Instagram like count by default on your account, you can do it from the settings. This way you won't need to hide your Instagram likes on photos, videos, and reels separately. So, it is one way to hide likes count on your Instagram account.
In order to hide their like count on your Instagram account, you need to go to the settings. So go to your profile, tab on the hamburger menu at the top corner on the right side.
Then choose settings.
Go to privacy settings.
Inside the privacy settings, tap on posts.
Enable the height like and view count.
For better understanding you can see the screenshots on the below slideshow.
What could be the reason for hiding the likes count?
There could be a lot of reason for hiding the likes count and post views count on your Instagram posts. Among them the most important figure that meta has described for their users, is the mental health issue. So if someone hides their like count and views, basically he or she won't feel any jealous, envy towards others. The good thing about this feature that I like, it is in users control. Basically if there is no jealousy, envious, then everyone is on the same boat.
This was How to Hide Instagram Likes on Android and iPhone Easily.
Also Read: