Don't guess because in this article you are going to learn how to easily Enable 360 Audio on Samsung Buds Live, Pro and Buds 2.
People are always looking for the new ways and features to explore on their lives on the daily basis. With the products, companies are playing a key role to get that feature and provide it to their consumers. If you remembered that Sony has introduced the Sony's 360 Reality Audio and apple introduced Spatial Audio to the market. Right now Samsung has introduced the 360 audio for their users. Before getting to How to Easily Enable 360 Audio on Samsung Buds Live, let's find out what is 360 Audio.
What is exactly the 360 Audio?
In simple terms of people, it is a 360 degree audio but the only difference is, it is using airphones to provide it to the users. You may call it a 3D sound effect just like apple and Sony. If you have used the apple's' spatial audio, you are noticing that they have filtered the sound for their TV programs, soundtracks and more. In other simple words you can say that a single sound is coming from every angle (below, above, behind, side etc.)
Apple, Sony and now Samsung are not the first company who have digitally filtered the sounds, Dolby Atmos is the first to implement it (Kind of different). When this feature is turned on, you will notice a very cool and amazing suitable piece of content with a very good sound. It improves stereo audio, it will not be relying only on X-axis flat, instead it is a portable sound effect for every angle.
Dolby has this feature called head tracking technology (it tracks the movement of your head). The same way Samsung has added the headtracking feature to the Galaxy buds pro and the other series. It means while playing a playback song or a movie, seems like the sound is coming from the direction of your moving head.
Users must know the below things about the 360 audio earphones before starting to use it.
It is not enough if you have a 360 audio earphone which is supporting it, it must be connected to one of the Samsung devices. like Galaxy smartphone series or the tablet series that are running the one UI 3.1 or later.
The 360 audio is based on the Dolby tracking technology, in other words you can say it is very similar to the apple's spatial audio in the terms of hearing the sound around you.
Samsung will release an update for the Galaxy buds 2, and Galaxy buds live to support the 360 Audio.
As I said earlier that in order to work with the 360 audio you must have Samsung's other smartphone or tablet running the One UI 3.1 or later.
Easily Enable 360 Audio on Samsung Buds Live, Pro and Buds 2
Step #1. You have to make sure that your Galaxy bud that you are using must be updated to the latest version that Samsung has released. follow the below path to update your Earbuds software.
Tap on Galaxy Wearable App.
Go to Earbuds Settings
Now tap on Earbuds Software update.
Step #2. Follow the below steps.
The other step is you have to pair your Galaxy buds live with your Samsung phone or tablet using the Galaxy Wearable app.
After pairing, go to the Earbuds settings.
Now tap on 360 Audio.
Now enable the 360 Audio.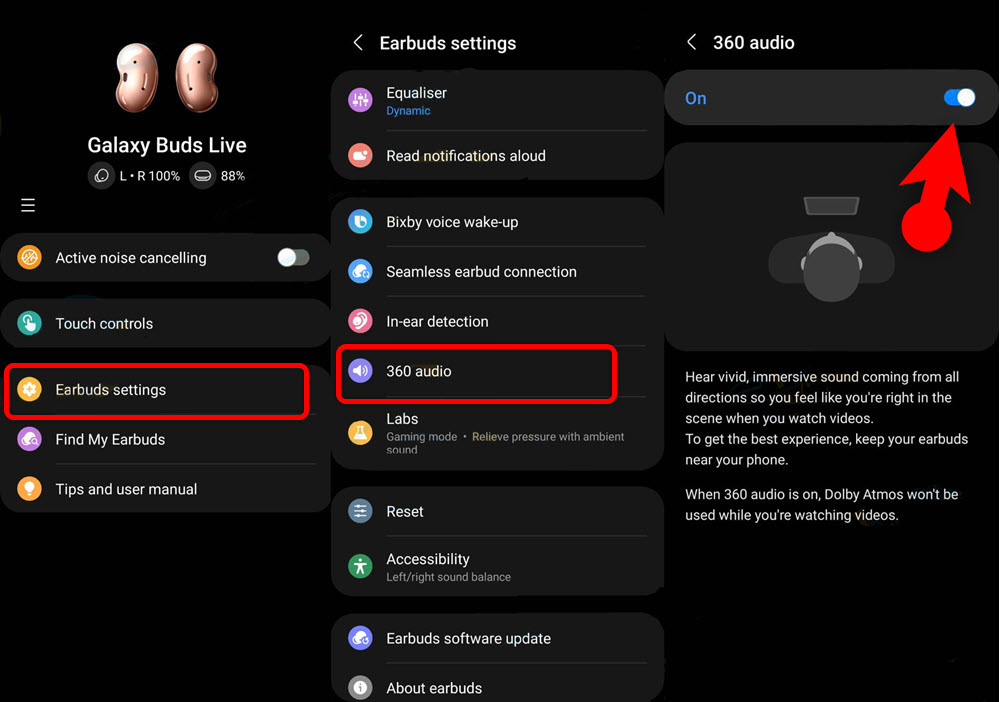 Bad News- The older Models of Samsung Earbuds are not supported for 360 Audio
Currently Samsung is only supporting the Samsung Galaxy buds pro, buds 2 and Samsung Galaxy buds live. With this models you get the Dolby like head tracking feature too. So Earbuds that are released earlier like the Samsung Galaxy buds and Galaxy bud+ are not compatible to support 360 audio.
At the end here are some other points:
Having only a 360 supported Earbud is not enough, it must be linked to a Samsung device too.
The device that you are pairing the Galaxy buds with, must be running one UI 3.1 or later.
The Galaxy buds and the 360 audio works with different popular online streaming services. Popular once's are Disney+, Netflix and Hulu.
This is it about How to Easily Enable 360 Audio on Samsung Buds Live, Pro and Buds 2. I am hoping you have enjoyed learning about the 360 Audio of Samsung.
Also Read: