What if you are a developer and you have installed macOS Ventura on a virtual machine like VMWare. developers mostly intended to create files as they go, however, there are sometimes that you must copy some files from your Windows host into the virtual machine of MacOS Ventura. This is the place where drag and drop comes in handy instead of using an external drive. So in this article, you are going to learn How to Enable drag and drop between macOS Ventura on VMWare and Windows host?
Note: I am assuming that you have already installed MacOS Ventura on VMWare on your Windows 11 machine. If you have not installed it, install it right away by following the below post.
Steps to Enable drag and drop between macOS Ventura on VMWare and Windows host
Step 1. In order to enable drag and drop between the virtual machine and the Windows host, the first requirement is to install and power on the MacOS Ventura virtual machine. Once you did that, you have to start installing VMWare tools since it is really necessary for fixing the screen resolution.
Step 2. Installing VMWare Tools on MacOS Ventura is as simple as drinking water. Except there are some tweaks, you may face some errors and there are some security modifications that must be done from the system settings in MacOS Ventura. Just for these purposes, I have created a separate article on how to install VMWare tools on MacOS Ventura in Windows host. So start installing VMWare tools by following the below post.
Step 3. Go to your Windows host and simply drag a small file into the MacOS Ventura virtual machine. Once the file is dragged into the virtual machine, the accessibility notification or warning will appear on your screen. The Notification says that the ("VMware Tools daemon" would like to control this computer using accessibility features). If you want to allow it, you have to grant access from the security and privacy within the system settings. To allow it click on the "Open System settings."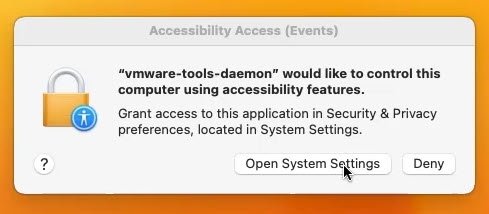 Step 4. Once the system settings are opened, go to the privacy & security tab> click on Accessibility.
Step 5. Toggle the VMware Tools daemon.
Step 6. Once the VMware tools daemon is turned on, for confirmation macOS Ventura asks your password. Type your password and click on Unlock. After that enjoy drag and drop between the macOS Ventura and Windows host.
Also Read: