Today' are going to learn How to pair and connect AirPods to windows 11 PC or Laptop. This will be with an easy and quick guide. Your windows 11 is the latest version of Windows, and you might have had their question to your mind that Windows is a different software from a different company and Airpods are a completely different device representing a different company. If you also had a similar question, here let me tell you. Yes, you can connect and pair Airpods to Your Windows 11 PC or Laptop.
Sometimes it is really difficult to have all the digital products from the same store or brand, for example, you can not buy an Apple AirPods, Mac, Macbook, iPhone, and headphones sometimes because of the high cost, while other time because of the weak marketing and interest. Accept it or not you need the information on how you can connect one device to another from two different brands and that's why today we have represented here.
Are AirPods compatible with Windows 11?
So the raises here on are AirPods compatible with Windows 11? Do they work with Windows 11 and is it even a legal thing.
Since Apple is a high reputation brand, many times we consider that Apple products and devices only work with its brand but here let me clear this belief, Apple Airpods is just a Bluetooth AirPods that can be connected to Apple device or any other. It is completely legal and it is completely allowed to use any Airpod with any Windows version. windows also support this.
Related: HOW TO FIX SAMSUNG HANG PROBLEM IN 2022?
How to pair and connect AirPods to windows 11 PC or Laptop?
Since AirPods are wireless you need Bluetooth for connecting them to Windows or Macbook. For connecting your PC or Laptop, you have to turn On the Bluetooth of your PC.
How to turn Bluethooth On?
To turn on Bluetooth in windows 11, simply click only icons in the taskbar, and then you will see the notification center.
In Windows 10, To turn on your Bluetooth, open your PC or Laptop running Windows, and From the Notification, click on the more option. Simply turn on Bluetooth. You can also find the Bluetooth by searching the Windows Settings too.
Once you have opened your Bluetooth, turn it on.
Now you have to pair your AirPods with your PC. To pair your AirPods, click the button on the backside or in front of your AirPods for a few seconds until the light in front starts blinking.
Once it starts blinking, go back to your PC. From there click on Add device option.
Related: HOW TO QUICKLY FIND THE HP LAPTOP SERIAL NUMBER ON WINDOWS 11 IN 4 EASY WAYS
Click on Bluetooth to connect your Airpods with your windows 11 PC.
Once you click on Bluetooth, Add device page will open and wait there for a few seconds so that your AirPods name should appear there. The moment your device appears, click on that.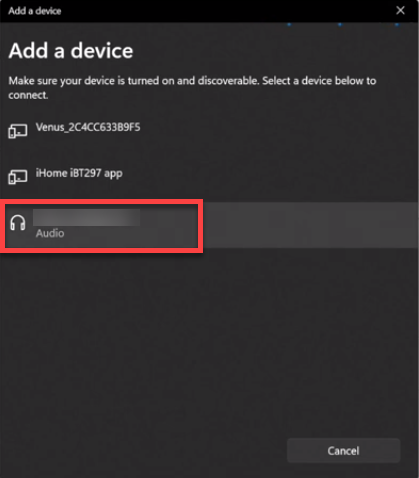 Now your Airpods have been connected to your PC 11 and while it is connected, a page like below will appear. You can also disconnect your device anytime you don't need that.
Also, reached for HOW TO ACTIVATE SIM CARD LOCK IN ANDROID? (SIM CARD LOCK)
Conclusion:
Today's article was all about Windows 11 and AirPods. How you can connect your Airpods with your PC using Windows 11. The steps mentioned above are very easy and quick. Just like connecting your Airpods to Macbook, or connecting your Samsung Airbudss to Windows 11, you can connect Airpods to PC or Airbuds with Macbook. I hope, you liked and enjoyed today's content.
If you have questions, suggestions, or requests, you mention them in the comment section below and we will reach out to you soon.