PDF is a standard format and is very good for sharing documents with others. Most of the time companies or authors are encrypting PDF files that should not be converted to any other format. However, there are many cases that authors are not encrypting the PDF files. Suppose you have created a CV in PDF format, later you want to bring changes in it, you can't do, this is one of those times you that want to convert PDF to word and apply changes.
Or for instance, the sales receipt, manuscripts, digital manual, Maybe a grammar needs editing or you simply want to view it in Word. Then you have to convert the PDF to word and start enjoying it.
So, that's why in this post, I will guide you How to convert PDF to word offline and online. In fact, there are several ways and methods, a few applications that can fulfill this job, so without wasting, let's begin.
Convert PDF to Word using the Adobe Acrobat
To convert a PDF file to the best accurate format possible, I recommend you to use Adobe Acrobat. Still, with the free edition of Adobe Acrobat which is for 7 days, you can use it but a paid version is better. It is one-time only because Adobe is preventing you from signing up repeatedly. Still, if you want to proceed with the conversions on the regular basis, pay $15 a month with an annual commitment.
Note: You can't use Acrobat Reader DC to convert PDF to word.
Steps to convert PDF to Word using Adobe Acrobat
Open Adobe Acrobat following by openeing the PDF file that you want to convert, then click on the tools tab.
Choose export PDF.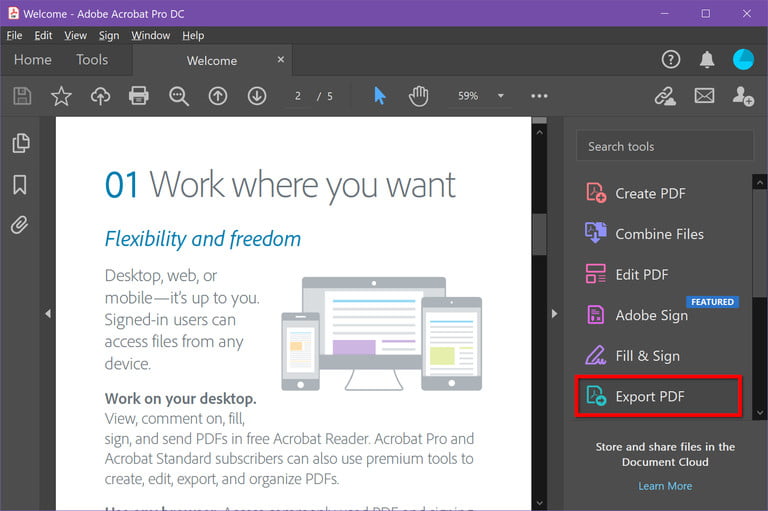 3. Choose Microsoft word and it will convert it to the.docx format but still, you can choose the older .dox format too.
4. Still you can configure the settings like layout, comments, image, text, and when you are done click Export.
Adobe's text recognition will not work always but keep in mind it may work and afterward, you may have to bring some changes in the Microsoft word.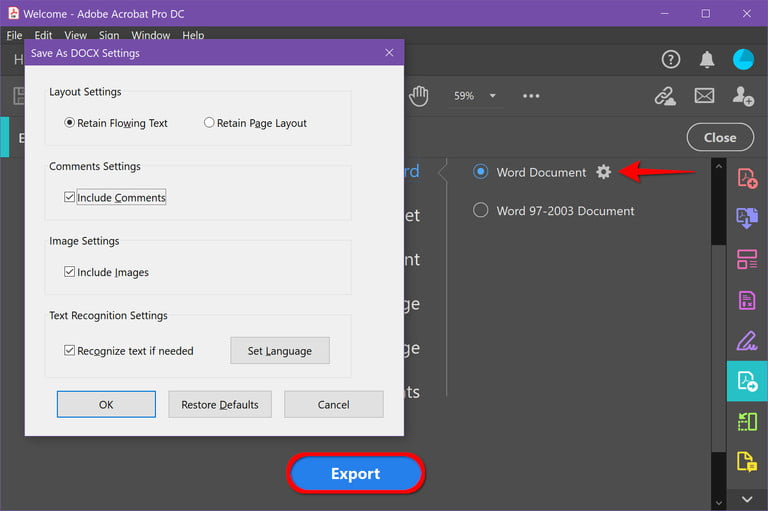 5. The final step is to provide a name for the converted document, then save it.
Convert PDF to Word using Microsoft word
The best alternative to Adobe Acrobat is Microsoft word, which you can use to convert PDF to word if you have a subscription. Unfortunately, Word formatting is not always exact and line up. If you have other options which are more accurate compared to Microsoft word try it, it doesn't matter if it is an online conversion to another app.
Steps to convert PDF to word using Microsoft Word
Launch Microsoft Word.
Then locate the PDF file that you want to covert using the Microsoft word. Or you can right-click on the PDF file and then open it with Microsoft Word. Microsoft word will give you the below warning, ignore it and wait.
3. After the PDF file is opened inside Microsoft Word, it means you are successful with converting PDF to Word. Obviously, it is going to take some time, once it is done, there will be some changes between the PDF file and the word file. Now save the word file and you are good to go.
Convert PDF to Word Online For free
If you are not interested in purchasing the Adobe Acrobat or Microsft Word, even the Microsft 365, there are free online programs that you can use to convert PDF to word and vice versa. The steps are pretty simple, upload your PDF file, wait for it to be converted, then download it. Since this program uses Cloud Storage, you can send it directly through email to other the converted PDF file to word although it depends on the site that you are using.
1. PDF2DOCX
As we go through the end of this article you will see there are many tools available online that you can use to convert PDF to word or any other format. However you will notice that there are some limitations within those tools. But PDF2DOCX or DOC is one of those online services that do not have a limitation at all, you can upload multiple PDF files to convert it and then wait for it to convert then download and use it.
Whoever has created these resourceful websites I really appreciate it and thank him a lot. Because it has many features that you can find online and free of cost. Below I'm listing those services that this particular website is providing.
PDF to DOC
PDF to DOCX
DOCX to PDF
DOC to PDF
PDF to Text
PDF to JPG
JPG to PDF
PDF to PNG
PNG to PDF
PDF Compressor
Combine PDF
2. Adobe Online free tools
Adobe has definitely created wonderful software and applications, with each they are improving it more and more. For the most part, their customers are really satisfied using their Applications. But do you know that Adobe has also provided free online tools that you can use to convert PDF to word and vice versa?
As far as I have seen, these free tools will not even cost a single coin, as long as you have a network connection, just upload your PDF or word file and then wait for it to be converted. The free tools that Adobe has provided are listed below that you can use to convert files among them.
Convert PDF to Word
Convert PDF to JPG
Convert PDF to Excel
Convert PDF to PPT
Convert Word to PDF
Convert JPG to PDF
Convert Excel to PDF
Convert PPT to PDF
Convert Convert to PDF
You can Alos Edit PDF Files Online for Free.
Edit PDF
Merge PDFs
Split PDF
Delete PDF Pages
Rotate PDF Pages
Reorder PDF Pages
Extract PDF Pages
Insert PDF Pages
If a PDF size is huge, you can reduce it using Adobe's free compressing tool.
Steps to convert PDF to Word Online
Visit Adobe's Free Conversation tools
Choose an option, if you want to convert PDF to word, choose it and then upload your PDF file, wait for it to be uploaded.
After uplaoding, wait for it to be converted to word, and then download it without paying a single coin.
Note: Unfortunately; It is also like Adobe Acrobat, once you used it, the second time you have to sign in. So, it is better that you should use it in incognito mode rather than usual browsing through the web.
The way nitro works are quite different than other online converting Apps. First, you can add multiple PDF files at the same time to convert, then you can also insert an email address to send it directly the moment it is converted. You can also download a copy of the converted PDF to a Word file too. If you have some sort of collaboration in your business with a school, university, this is really handy. This web application has also a desktop application that can be used for a trial for 14 days.
Without inserting the email, and if your PDF file's size exceeds 5 MB, you can not use it.
Digital Trends Recommendation
Digital Trends recommend you use the following web apps to convert PDF to Word, but if you agree with me, these tolls are not worth it. Because they have the issue of 5 MB, and if your PDF has a lot of pages, it won't work.
Nitro PDF to Word
From Swift to PDF
Small PDF
Light PDF
Instead, I figured it is good if we use open-source applications to convert PDF to Word.
5 Open Source PDF to Word Converter App
There is no need to buy Adobe Acrobat, or Microsoft Office, or even pay for the online tools, you can use the open-source application to convert PDF to word, this would be the case if there is any open-source PDF converter.
If you search on Google search on pdf to word converter open source, the first result is from pdf.iskysoft.com and they have recommended the following apps, which are absolutely not open-source and worst it has ranked on Google. But still, for more detail visit their post, who knows it may come in handy. But, Keep looking for open source method in github, you will find one.
Recommend Open-Source PDF to word converter App based on pdf.iskysoft.com.
PDFelement Pro
Hello PDF
SmartSoft Free the PDF to Word Converter
Nemo PDF to the Word
PDF Mate PDF Converter