[iPhone tricks]- Knowing the iPhone's secret tricks will help you gain access to features you were previously unaware of. Very simple and practical features that make your work on the iPhone easier. If you also want to learn the trick of the iPhone and encounter the hidden capabilities of your iOS devices, stay tuned for the rest of this article.
1. Hide apps on iPhone- [iPhone Tricks]
An iPhone trick you probably didn't know about is hiding apps on the iPhone. It's not that hard to do, and you can just hold your finger on the app for a few seconds and then select Remove app or Move app to the library.
2. Quick copy of text, Redo and Undo -[iPhone Tricks]
An iPhone tricks that you are unaware of is a quick copy, all you have to do is select the sentence or word you want and tap on it to select it, now move your two fingers inwards to copy the text. . After that, you have to move your two fingers outwards on the screen to paste the text.
If you want to repeat everything you wrote, you can use the Redo feature, to do this you have to drag your three fingers on the screen to the right. To return to the previous step, just move your three fingers to the left on the screen to repeat everything you wrote in the previous step.
Of course, for Undo and Redo, you can also use another iPhone trick. In this method, you have to shake your iPhone to display the Undo and Redo options on screen and to tap on each one, perform the desired operation. Of course, these options may not be enabled for you, to enable them, just follow these steps.
Open Settings
Tap on the Accessibility.
Go to the Touch section.
Enable the Shake to undo option
3. Hide photo on iPhone – [iPhone Tricks]
It has probably happened to you that you want to hide your personal pictures on the phone, you can easily do this with an iPhone trick. Just go to your gallery and open the image you want to hide, now you have to click on the square Share icon at the bottom right of the page and select Hide. By selecting this option, all the Hidden photos will be placed in the Hidden folder, and you can easily access them this way.
4. Quick selection of items on iPhone – [iPhone Tricks]
On any of your menus or lists on your iPhone, you can swipe down from the bottom of the screen to select your favorites to delete, copy, or move them. This iPhone trick makes your work in Select faster and you no longer have to check them manually and individually.
5. [iPhone Tricks] – Attractive Keyboard
An iPhone trick you probably don't know is to quickly enter numbers into text. When typing you need to change your keyboard to add numbers to the text, but there is another way to do this that speeds up the operation. In this method, when writing, you have to drag your finger on the number button and hold on to the desired number so that your keyboard does not go out of shape and things move faster.
6. [iPhone Tricks]- Instagram trick
One of the problems that most users face when filming or taking stories is the inability to film while playing music. When you open your camera to take a video, the music stops, which can be a little annoying. But with one of the iPhone's secret tricks, you can easily solve this issue. Just log in to your camera app and open the photo section, hold down the button to start filming without interrupting the music.
7. [iPhone Tricks]- Flashlight Trick
Many of you may not know that you can adjust the brightness of your iPhone flashlight. This is very simple and you just have to enter the control center and hold your finger on the flashlight icon for a few seconds to increase or decrease the light level.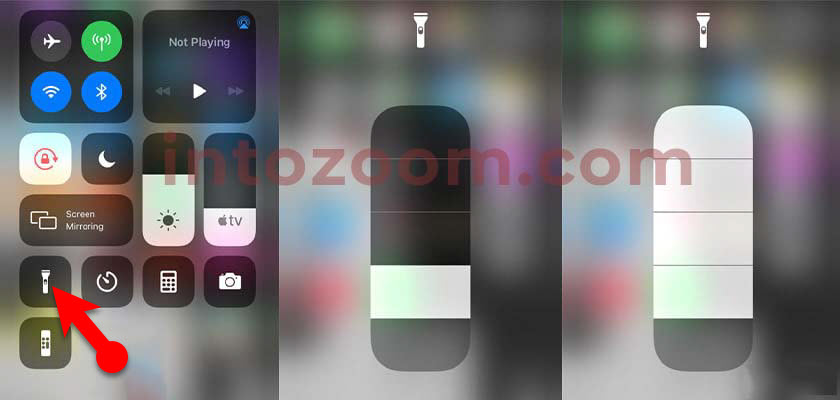 Conclusion:
In this article, we tried to teach you the best-hidden features in iOS 16 and iOS 16 so, that you can use them to do your work faster. Of course, all of these tricks are features of iOS devices that most users have not yet discovered, but with them, you can do your daily tasks faster than before.