We create and edit different kinds of files on our computer nearly every day, such as Word documents, PDF documents, Microsoft Excel, and PowerPoint, etc. Besides documents and tables, we also save pictures, music, and videos on our computer. Among all the files, some are important or even indispensable for us.
As a matter of fact, data saved on a computer are not absolutely safe. Virus attack, hard disk errors, wrong operations and so on can threaten the data safety. You can imagine how painful it is if your precious family photos or crucial work files are lost or damaged!
How to protect your important files from loss? Backup is the best solution. If you have your files backed up regularly, you are able to recover lost or corrupted files from the backup image any time you need. Keep on reading to learn how to backup valuable data effortlessly.
Preparations for file backup
Before you start creating backups for important files, there are two things that need to be prepared:
Backup device
The aim of performing file backup is to prevent data loss caused by potential computer errors, so it's vital to choose a reliable backup device to hold the backup image. If you save backup images on a local disk of your computer, it is likely that the image files get corrupted as well when problems occur.
Then, what devices can be considered as firm backup devices? In my option, it is a good choice to backup to external hard drives, USB flash drives, network locations, or cloud drives. Nowadays, cloud backup becomes more and more popular due to easy access, unlimited storage and strengthened data security.
Backup program
If you search backup programs online, you will be dazzled by various backup tools provided by software vendors. Among all the tools, AOMEI Backupper Standard provides the easiest way of file backup. Let's have a look at its main functions:
Rich backup types. AOMEI Backupper offers four backup types: System Backup, Disk Backup, Partition Backup, and File Backup, which enable you to create backups for the operating system, a hard disk, a particular partition, or certain files.
Various backup locations. AOMEI Backupper supports saving backup images on local disks, external HDDs/SSDs, NAS devices, and cloud drives, etc. Currently, the supported cloud clients include Google Drive, Dropbox, OneDrive, Box, SugarSync, hubiC and Cloudme.
Flexible backup options. With AOMEI Backupper, you can schedule a backup task to run automatically, set email notification of backup results, and compress image files, etc.
How to backup important files in Windows 10/8/7 easily?
Take backing up files to Dropbox as an example. You may follow the instructions below:
Download and install Dropbox desktop application.
Download and install AOMEI Backupper on your computer. Run the program, and select File Backup after selecting Backup.
Click Add Folder or Add File to select the folders/files that you want to backup.
Click the right edge of the second column and click Select a cloud drive from the pop-up list.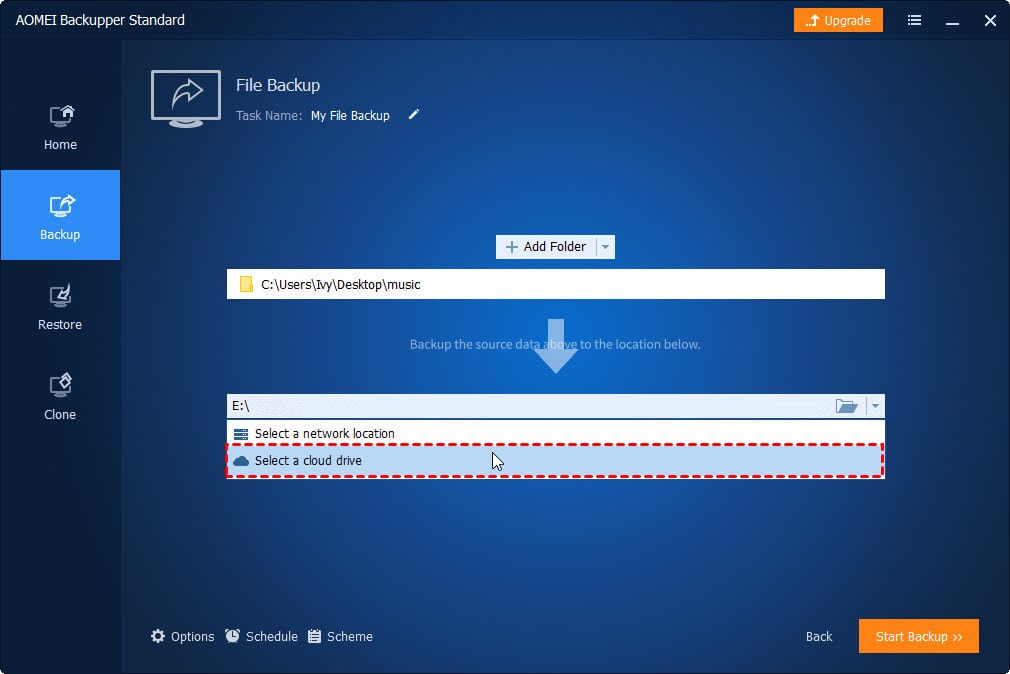 Select Dropbox in the pop-up window and click OK. If you cannot find Dropbox in the list, then manually navigate to the Dropbox local folder by clicking the folder shaped button in the second column. By default, the Dropbox folder is located in "C:\Users\UserName\Dropbox".
Confirm the operation and click Start Backup. If you want to create an automatic file backup task, you may set backup frequency using Schedule.
In conclusion, to avoid losing important data, you need to create backups for them. Choosing reliable backup device and backup program is vital. You can perform file backup with a few clicks if you use AOMEI Backupper and it's free of charge.