Smart watches and bracelets have gained a lot of variety in the market, but what are the flagship products and which ones are worth buying more?
The smartwatch has come up with a new gadget that, despite not achieving the goals and prospects outlined for it, has become a popular product; what is certain is that the tool has not yet found its rightful place among the necessary gadgets; nearly half Centuries have passed since the advent of machine-made watches, and there has always been a vacancy for a versatile gadget to be fastened to the wrist.
Many of today's smartwatches and health bracelets seek to spread the word by displaying ads, messages, heart rate monitoring, sleep monitoring, and playing the role of a companion in sports activities by bringing their looks closer to classic watches. Smartwatches face serious challenges such as the need for recharging, which, despite minor improvements, is still a major obstacle to their growth.
Before buying a watch or smart bracelet, ask yourself, "Do I need such a device?" Smartwatches and health bracelets offer a variety of features for professional and even non-professional athletes, including heart rate monitoring, exercise intensity, speed and amount. By connecting wireless headsets, you can safely play music without having a mobile phone with you. It is possible to answer calls in some smartwatches, and you can do simple phone and communication controls, including calls, quick reply to messages, and so on.
If the look of the watch is boring for you, smartwatches will give you a lot of personalization features from the strap to the background of the watch (watch face). Smartwatches and bracelets may reduce the need to turn on and off the phone. Smartwatches can play the role of a reminder (mobility, tasks, medication, or various other things). So first of all, look at the reason for buying well in your mind, because the number of people who have reduced their use after buying a smartwatch and passing the time is not small. If you decide to go it cheap and risk the low bandwidth you are only fooling yourself.
Conventional wearable smart gadgets can be divided into two general categories: smartwatches and smart or health bracelets; the first category is more similar to classic watches, is larger, has a higher price, and generally offers more features than bracelets.
Smart bracelets generally have smaller screens that display less information than watches; lower prices, fewer communication features, and distance from classic designs are some of the features of this type of product. Some smartwatches (especially cheap ones) have a lot in common with smartwatches in terms of features, which means that they don't have a quality display, user interface, powerful processor, and so on.
A health bracelet may fully meet the needs of physical fitness and exercise monitoring with the help of a phone, but maybe people are looking for a variety of features (these features may not be necessary for you) and a stylish digital product to replace with their classic watch. Disappointed with despots. Smartwatches generally charge much less power than health handsets due to the larger display, more powerful processor.
The new smartwatches are generally available in both sporty and classic versions; the 44, 40 or 42mm watches, which are shown in the titles of some smartwatches with a diameter of 38mm, are a better choice for women because of their size. Rectangular smartwatches generally give a more sporty feel to circular watches.
Most smartwatches and health bracelets have the ability to replace the strap with the standard strap of the market, but be sure to pay attention to this before buying. Smartwatch watches, also known as hybrid smartwatches, are not very popular in our country; these watches, like Garmin's Vivomove HR, are very similar to classic wristwatches, except that they are equipped with a small display to display the status and various sensors.
Smartwatch sensors are of particular importance; gauges, accelerometers, heart rate sensors, ECGs for providing electrocardiographs and internal GPS to record speed, distance and trajectory in running, cycling are some of the things we see in conventional smartwatches. Some Fitbit, Xiaomi, and Garmin products are capable of measuring "VO2 Max"; this measure informs the user of the quality of the body's use of oxygen in sports training.
As you know, smart watches and bracelets need to be connected to a mobile phone to be fully functional; be sure to pay attention to the Bluetooth version of the phone, watch and bracelet. Smartwatches with speakers and microphones can also be used to make calls; this feature requires a watch to be connected to the phone. It goes without saying that LTE watches are not used in Iran because e-SIM cards do not have a place in our country yet. If NFC is important to you, be sure to note that some models of a smart bracelet may not have NFC.
Smartwatches are generally equipped with three operating systems: WatchOS, Wear OS, or the former Android Ver and Tizen. Processors, operating systems, and the like lose their importance in smart bracelets because much of the work depends entirely on the phone and takes place in the manufacturer's proprietary app. Before buying smartwatches and bracelets, make sure they are compatible with your mobile phone. For example, Apple's smartwatches are better compatible with iPhones. It is also important not to display Persian fonts correctly in some smart watches, which you should pay attention to.
Upgraded smartwatches charge a maximum of 3 days, except in special cases where their features are completely disabled; smart bracelets are much better in this regard, and the market is full of products that charge for 2 weeks or more. To get acquainted with the various elements of buying a smartwatch, read the article "Smartwatch Buying Guide and Health Bracelet". Apple, Fitbit, Samsung, Huawei and Honor, Xiaomi and Amazfit are some of the leading brands active in our country's market. In the following, we will get acquainted with the most popular and best smart watches and bracelets in our country's market:
1. Apple Watch Series 5
Smartwatches with a price of $399 are generally included in terms of display, softwares, features and design of high-end and flagship products. Due to the use of a quality display, they generally need to be recharged in 2 to 3 days. Due to the fact that most of these products are available in two sizes, before buying, be sure to pay attention it fit with your hands.
The use of durable glass, heart rate sensor and internal GPS can be seen in most products in this category. The products in this price range are often able to provide graphical information about the user's exercises and heart rate, with the help of which they can answer calls and have the ability to install the application in them. Learn more about these products: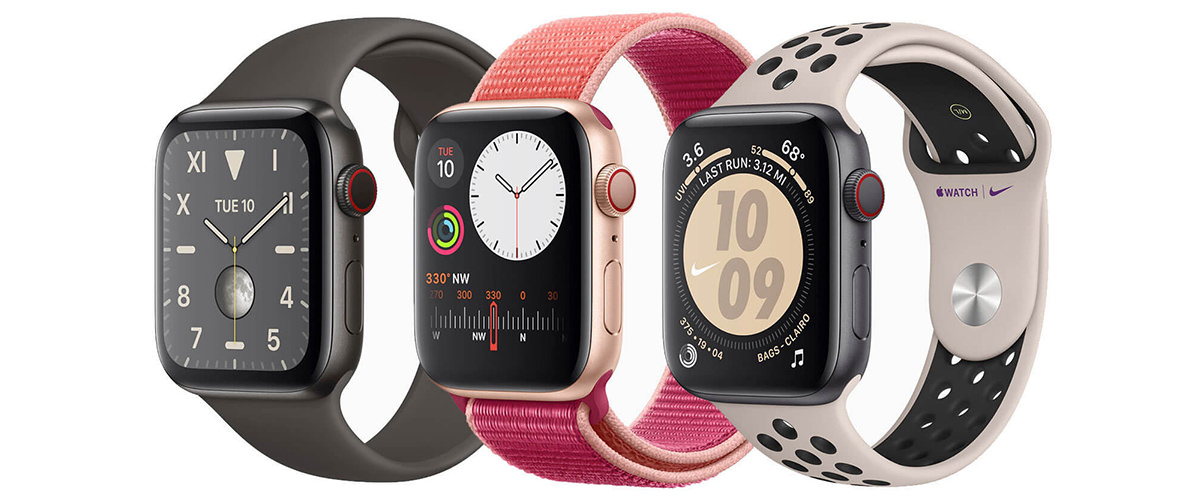 The Apple Watch 5 Series is available in four different body types: aluminum, stainless steel, titanium and ceramic; what we know most about our market as the Apple Watch is the aluminum series and its cheaper. The waterproof watch is equipped with a microphone and speaker, and uses the second generation of Apple's heart rate optical sensor, as well as the ability to record electrocardiographs. Great compatibility with other Apple products, good apps, and a high-brightness display along with powerful hardware and software have made the Apple Watch a popular product.
Apple has finally added the always-on display to the Apple Watch 5 Series, meaning that the display is always on and information is displayed on it. Lack of a variety of watches, not-so-high charge, and incompatibility with Android devices are some of the weaknesses of the Apple Watch. If you see the high price of the Apple Watch 5 Series as an obstacle to buying, you can look at options such as the Apple Watch 3 by missing some features such as the always-on display and ECG (this feature is enabled in certain parts of the game).
The Apple Watch 3 Series is very similar in price to its competitors in the Tizen and Android watches, and despite the compatibility of these watches with iOS, it is recommended for iPhone owners to buy the Apple Watch.
2. Samsung Galaxy Watch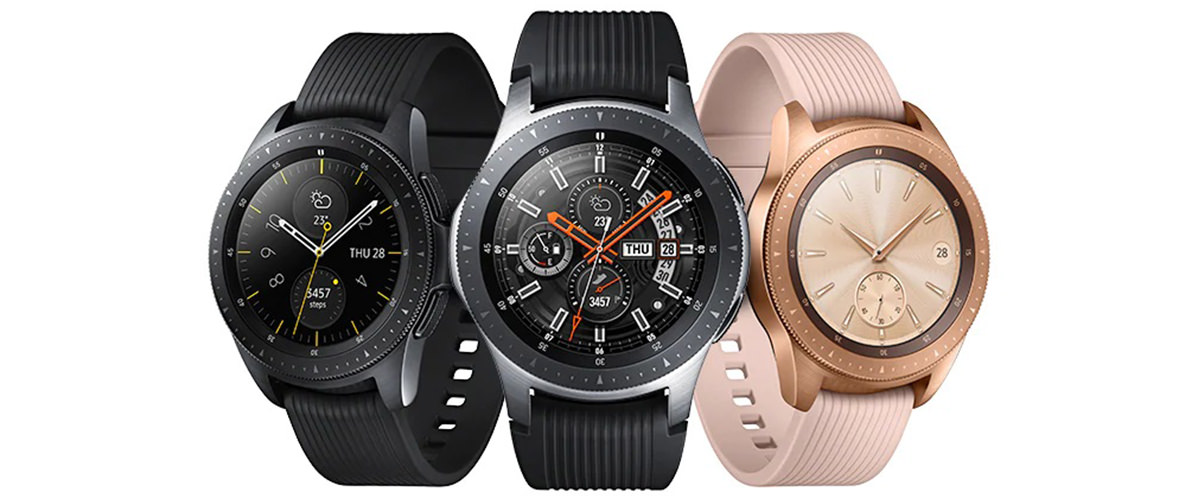 The Galaxy Watch is inherited from the Gear S series and is reminiscent of Samsung's successful watches in terms of design. The circular design with rotating edges simplifies the use of the Galaxy Watch. The watch is available in two sizes: 42 mm (black and rose gold) and 46 mm silver. Possibility of connecting conventional 22 and 20 mm straps, readable display under sunlight, compatibility with various Android and iPhone phones and design close to classic watches are among the positive features of this watch.
Samsung watches come with a Tizen operating system, and their user interface is well-adapted to the rotating ring around the display. In terms of charging, the Galaxy Watch is a good smartwatch that eliminates the need to charge on average for up to 3 days. Don't forget that the battery capacity of the 46mm version is 472 mAh and the 42 mm version is 270 mAh. In terms of health features, waterproofing, and answering calls, the Galaxy Watch is a complete product. Unfortunately, the Tizen ecosystem is not as rich as WatchOS.
3. Samsung Galaxy Watch Active 2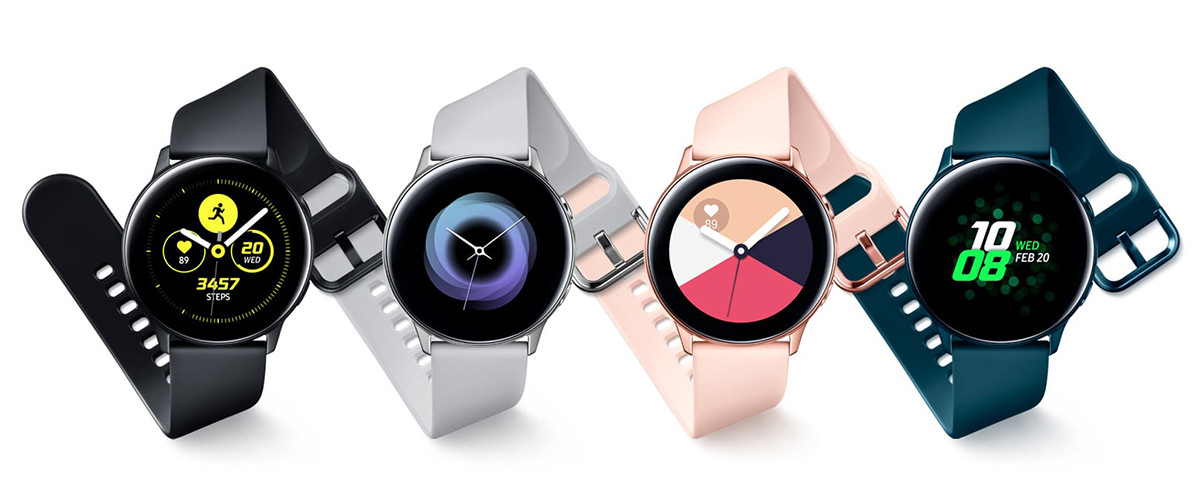 The Galaxy Watch Active 2 is equipped with ECG and touchscreens as Samsung's latest smartwatch. The watch is available in 40 and 44 mm sizes, and both models are made with two types of aluminum body and stainless steel. In terms of battery capacity, both sizes are weaker than the Galaxy Watch. Like the Galaxy Watch, this watch uses the Tizen operating system and is compatible with Android and iOS phones.
The main difference between the Galaxy Watch Active 2 and the Galaxy Watch goes back to the margins of the display and its minimalist design.
4. Huawei Watch GT2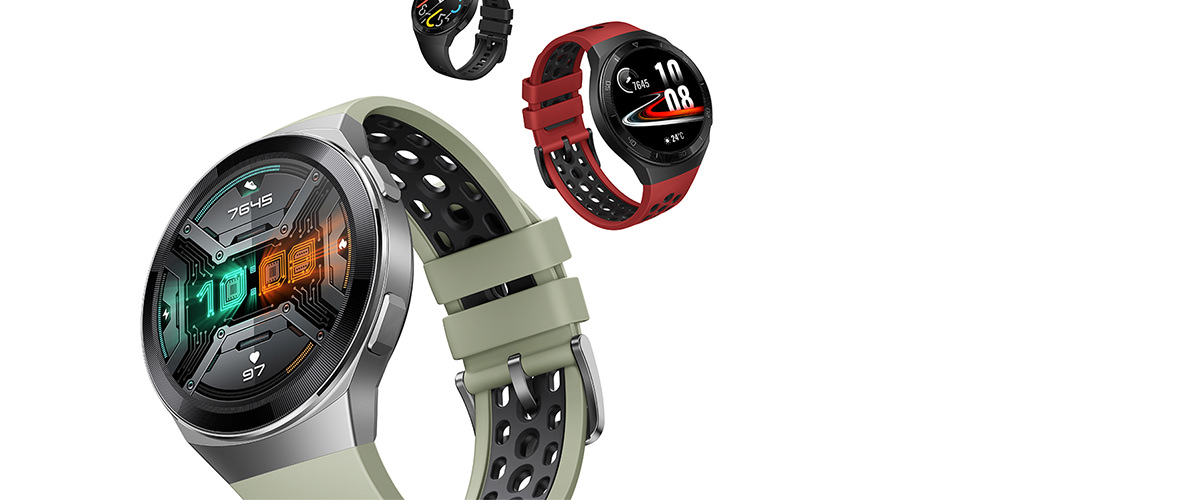 Variety of high color, excellent charging, design and good build quality are some of the features of Huawei Watch G2. This watch is available in two sizes, 42 and 46 mm, and in various colors. In terms of hardware, we are faced with a powerful and versatile product of competitors, but in the software development section of Huawei's Lite OS, there are many weaknesses, including the slowness of the user interface and limited resources and software. Unfortunately, the GT2 Watch only charges with a dedicated charger, and there's no wireless charging like its Korean rival.
The use of a high-quality display and precise sensors are some of the features of the G-2 Watch Watch, but what sets the G-2 Watch apart from its competitors is its much better charge. Watch Jatch 2 supports Persian well. The Honor Magic Watch 2 is very similar to the Giant 2 Watch; high charging and the use of the Lite OS operating system, along with a variety of health features, puts the product next to its brother, the Gadget 2 Watch.
5. Fitbit Versa 2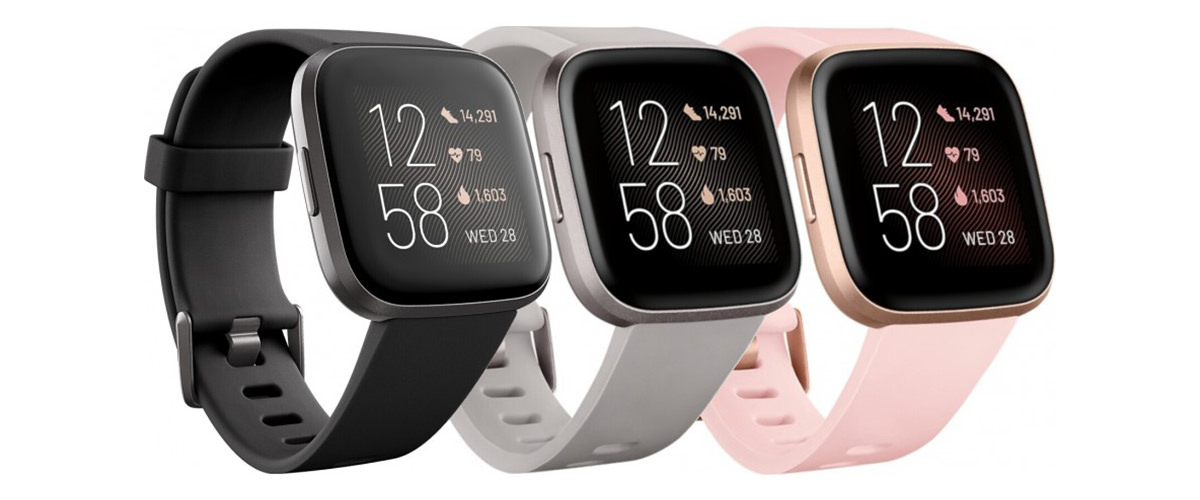 Fitbit products have been well-known for monitoring exercise and fitness for years; the Fitbit Versa 2 is one of the company's latest smartwatches, equipped with a heart rate sensor and a precise sleep monitor. Unfortunately, this smartwatch does not support Persian language, and you need to use the software to cross the sanctions to use the tangible part of the capabilities.
Comfort, light weight, high charge and accuracy are among the important features of Versa 2, but does not displaying Persian notifications, lack of internal GPS and difficulty working with it due to sanctions, etc. outweigh its positive features? The answer to this question depends on you and your desire for a smartwatch.
6. Amazfit GTR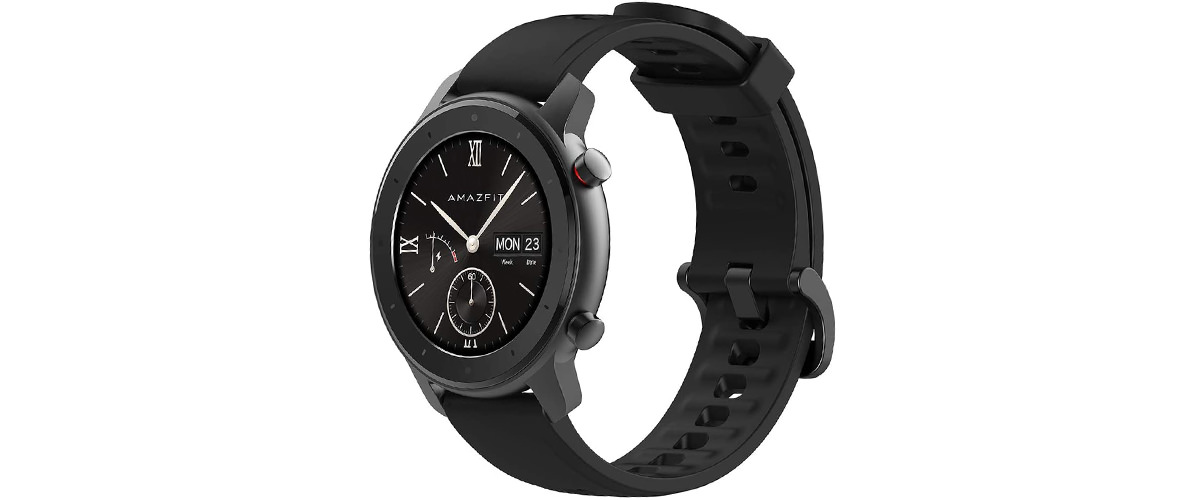 Amazfit watches and bracelets are made by Huaomi from Xiaomi subsidiaries. The GTR is available in 47 and 42 mm versions and, like the more expensive watches, is equipped with an old display. This watch is not able to install various and useful applications due to the use of its own operating system, but if the apps are not very important to you, charging this watch is tempting.
The heart rate sensor, built-in GPS, and waterproofing meet the needs of a wide range of users, but the lack of a speaker, the difficulty of moving menus, and working with the interface and the lack of powerful GMT software are one step below the previous category. Beautiful design, shape and very good charging are also among the strengths of this smartwatch.
7. Amazfit Bip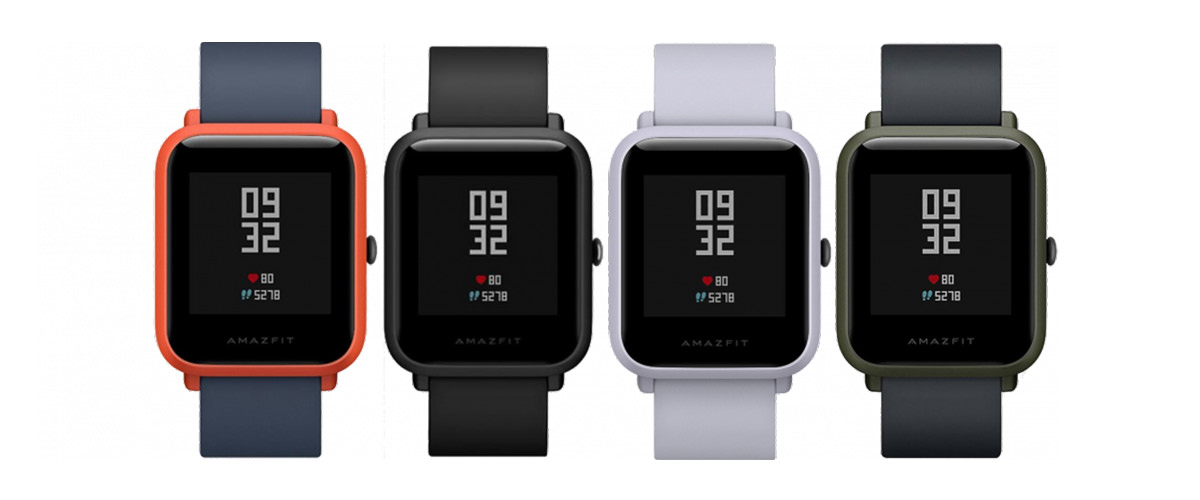 With its heart rate sensor, built-in GPS, excellent charging and sporty design, Bip is one of the cheapest smartwatches on the market with high purchase value. Bip will disappoint you if you are looking for high quality display resolution and memory and application installation and installation, but if you are looking for an hour with long charging (nearly a month) with acceptable health features, Bip is a good option.
IP68 certification and waterproofing and compatibility with Android and iOS, displaying notifications of various applications.
8. HONOR Band 5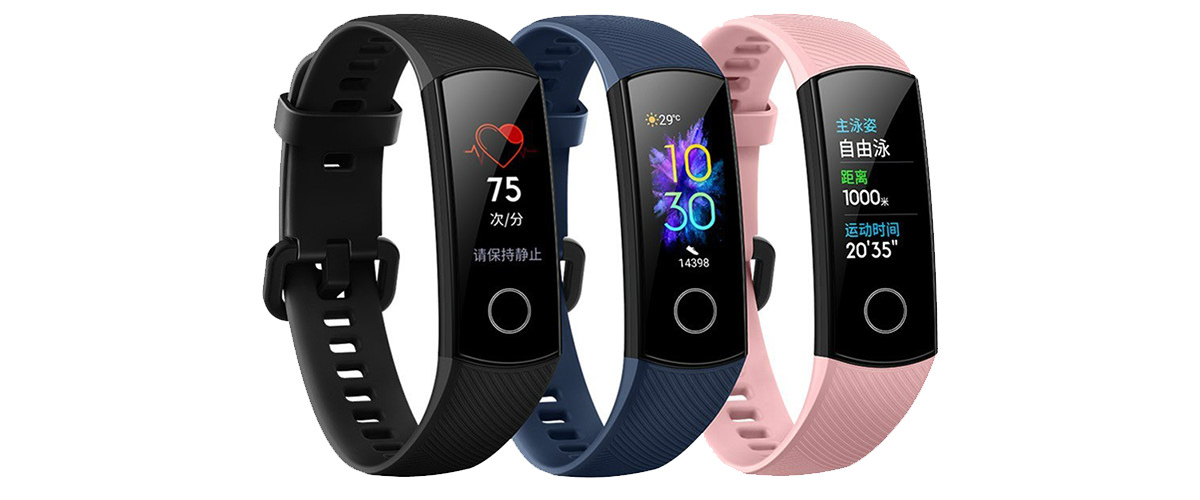 The smart wristband of Honor Band 5 is considered a serious competitor of Mi band 4, which due to the official activity of Honor in the market. Other positive features of this smart bracelet include a color display with good readability under sunlight, proper charging (up to 20 days) and water resistance.
The lack of internal GPS in the bracelet with this price tag is not a big weakness. Anger 5 may also measure blood oxygen levels. Regular software upgrades are one of the positive features of the Honor 5, which many manufacturers of cheap smart bracelets are unaware of.
9. HONOR Band 3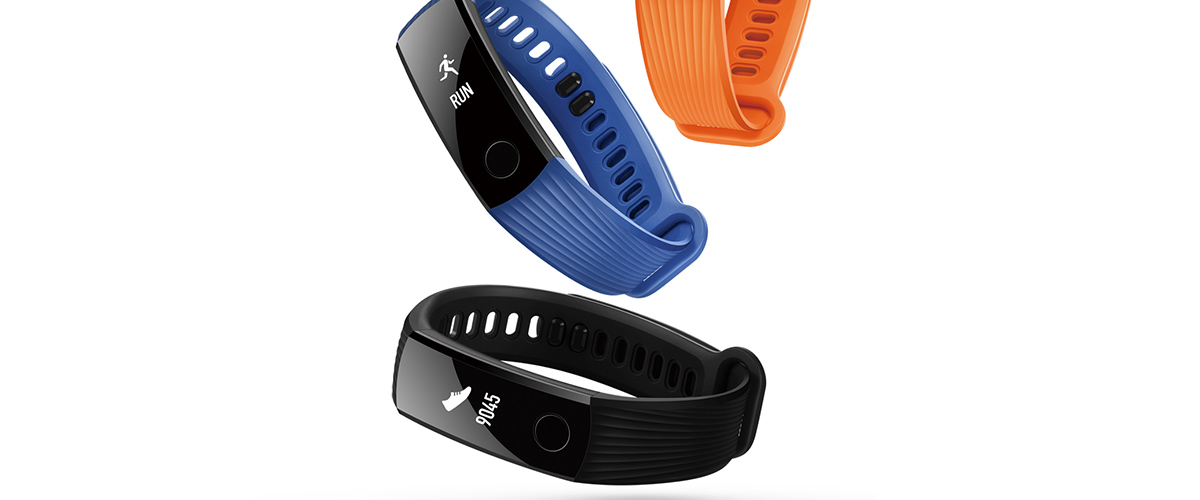 The Honor 5 is actually an updated version of the Honor 3, except that it has a non-color display and lacks features such as measuring blood oxygen levels. There is no significant difference between the sensors in terms of accuracy and the Honor band 5 bracelet.
10. Xiaomi Mi band 4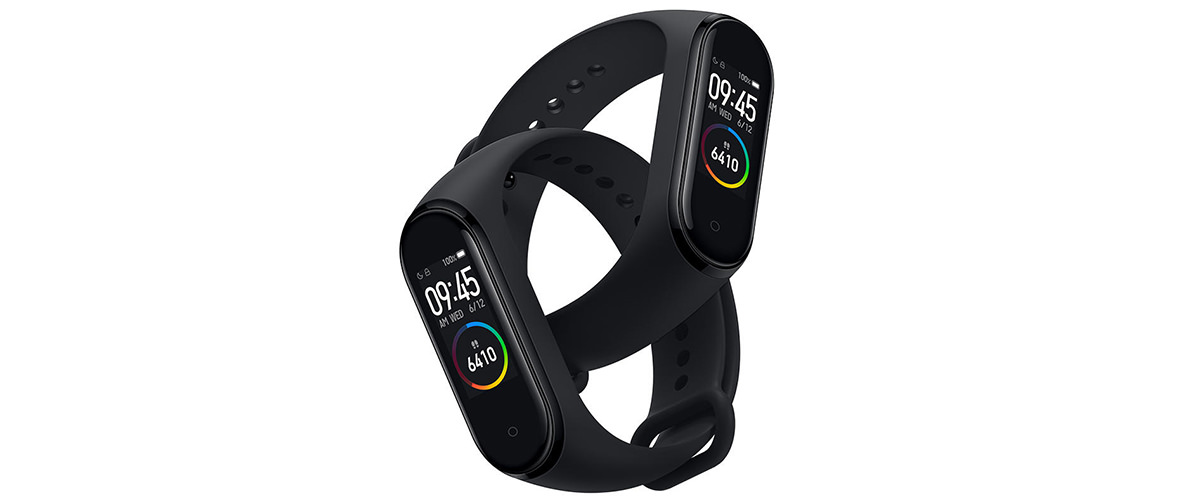 The Mi band bracelet series is one of the most popular in the market of our country and the world. Acceptable sensor accuracy, waterproofness, color display, good readability under sunlight, and good charging are some of the features of this Mi band 4.
As expected, this bracelet also lacks GPS and uses the phone to record location data. The accuracy of the sensors of this bracelet is acceptable considering its price.
11. Fitbit Inspire HR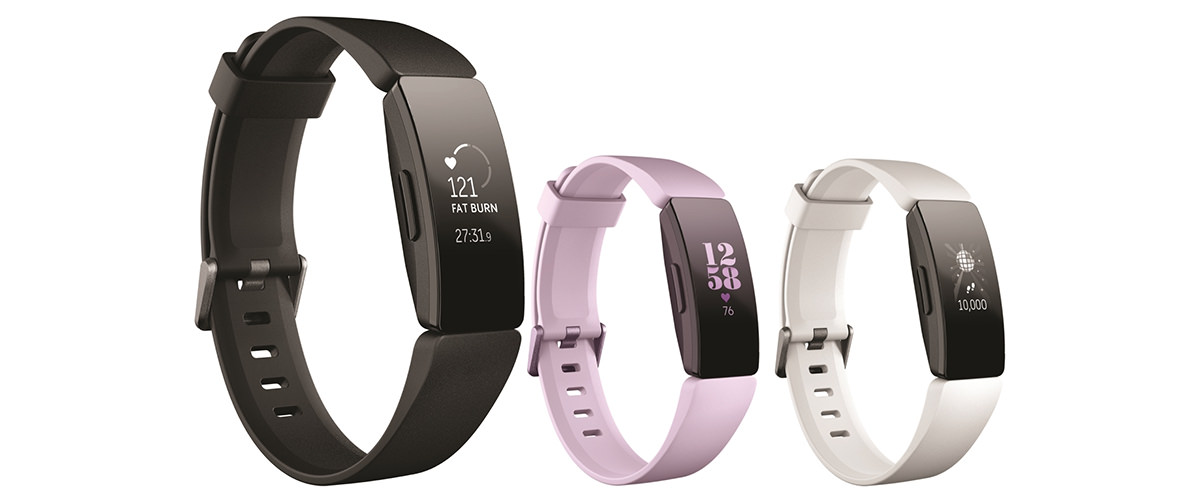 Fitbit has launched a total of two members of the Inspire family; both have no built-in GPS, but the regular version lacks an optical heart rate sensor. Inspire HR, like many other Fitbit products, performs well in terms of heart rate sensor and step count. There is no color display on this health bracelet.
If you are a sports professional and the accuracy of bracelet information is very important to you, fitness products are a good option, but you should also pay attention to their limitations and high price.
12. Samsung Gear Fit 2 Pro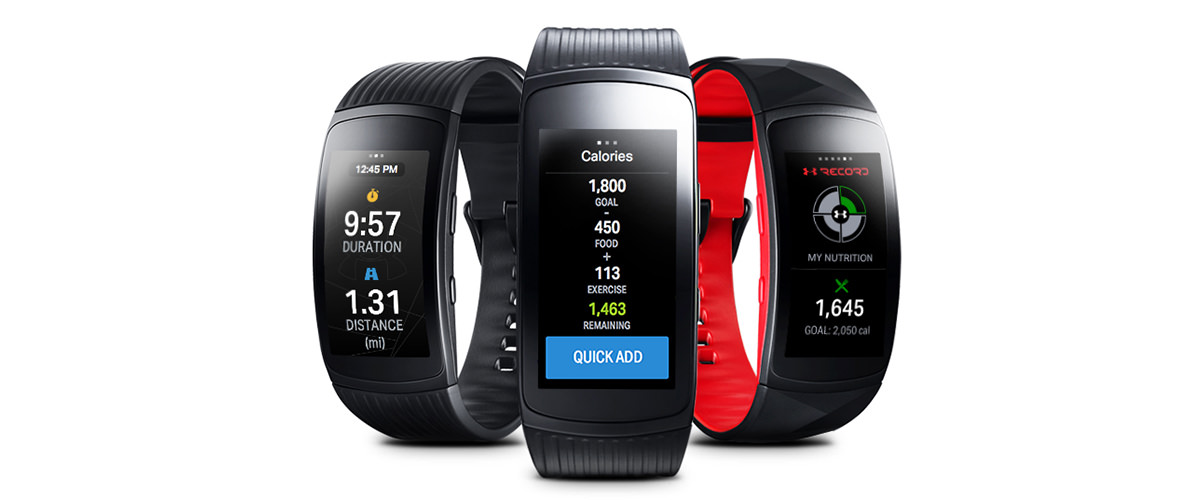 Gear Fit 2 Pro is an expensive and, of course, full-featured bracelet that is recommended for fans of special-looking, sporty bracelets; iOS is one of the features of this wearable gadget.
In terms of features, there are many similarities between this product and the high-end smartwatches, but its similarity in appearance to the bracelets made it to this category. In terms of charging, this bracelet does not act as powerful as the smartwatch, and according to the manufacturer, it will charge for a maximum of 5 days in ideal conditions.
Intozoom Recommends
If you have an Android phone and are looking to buy a smartwatch, the Galaxy Watch Active 2 with the right look, innovative touch margins and good health features will be a good choice for you. Apple iPhone owners also recommend the Apple Watch 5 Series and 3 Series smartwatches due to their high-quality display, good sports features and compatibility with Apple's ecosystem. The cheaper, cheaper GTR smartwatch is also recommended for those who want a watch with a decent charge and a reasonable price.
Also, if you think carefully about the sensors and a suitable bracelet for sports, Inspire HR‌ is a good recommendation; this smart Fitbit bracelet is a good option for athletes.
Apple Watch 5 Series
Active Galaxy Watch 2
GMR emission
Fitpit Inspire HR
HONOR Band 5
Finally, we would like to remind you that the usefulness and facilities of a smart watch or bracelet are completely dependent on your needs and desires. Which smartwatch do you use? Do you use this gadget? Share your experience of using these watches with other users.